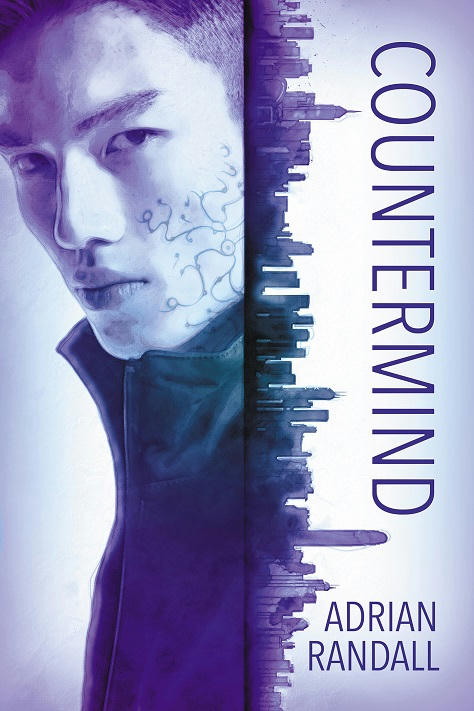 Title: Countermind 
Author: Adrian Randall
Genre: Paranormal, Science Fiction
Length: Novel (286 pages)
Publisher: DSP Publications (February 28, 2017)
Heat Level: Nil
Heart Rating: ♥♥♥♥ 4 Hearts
Blurb: In a postprivacy future, secrets are illegal and all communication is supervised. Telepaths are registered and recruited by a government with no qualms about invading the minds of its citizens. Fugitive psychics are hunted by the Bureau of Counterpsychic Affairs, or Countermind.
Alan Izaki is one such fugitive, as well as a hacker, grifter, and thief.
Countermind agent Jack Smith is hunting him through the twisted underbelly of Hong Kong.
But Alan possesses a secret so dangerous and profound it will not only shake Smith's loyalties, but the foundations of their society.
And Alan isn't the only one on the run. Rogue psychic Arissa binti Noor escapes Countermind, in search of brilliant game designer Feng Huang. She hopes that together, they can destroy the government's intrusive Senex monitoring system.
Their goals seem at odds, and their lives are destined to collide. When they do, three very different people must question their alliances and their future, because everything is about to change.
ISBN-13: 978-1-63533-269-8
Product Link: https://www.dsppublications.com/books/countermind-by-adrian-randall-356-b
Reviewer: Shorty 
Review: Let me start by saying this story was complex. The terminology used in it confused me at times but never the less I understand the nature of what it meant the further I read. A glossary would have been nice though to have a reference to look at. So much takes place in this book there is no way I can cover every character and twist in the review.
The Countermind agency is tasked with keeping psychics from using their abilities in an unlawful way by any means necessary, including reprogramming. This is done by using a telepath. What I found strange that they use other telepaths to scan minds in the guise of looking for rogues. Yet it is against the law for other telepaths to do the same.
There was an overabundance of information throughout this story. So much so that I had to continuously stop and restart reading. I found Jack's character to be without emotions and cold at times. He seemed almost inhuman. But he thawed the further I read and started thinking for himself at the end. 
Alan makes his living as a thief. He's extremely smart and cunning for his age. There is a massive mystery surrounding who he is which I will not go into less I spoil it for other readers. Arissa is a Countermind agent in training who is a powerful telepath. Zheng is the head of Countermind and most defiantly is not who he seems.
There is abundance of mystery, adventure, deceit, betrayal and drama throughout. All these ingredients and characters made for a great read with plenty of twists and turns to keep the reader intrigued