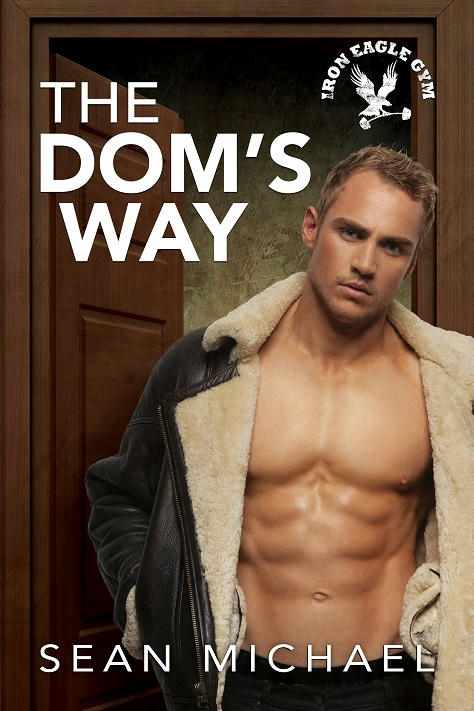 Title: The Dom's Way 
Series:  Iron Eagle Gym 05
Author: Sean Michael
Genre: BDSM, Contemporary
Length: Novel (200 pages)
Publisher: Dreamspinner Press (June 23, 2017)
Heat Level: Moderate
Heart Rating: ♥♥♥♥ 4 Hearts
Blurb: Neal and Way from The Closet Boy are back, only now they're Dom and sub, and exploring their relationship through the lifestyle. Way is eager to learn everything, and more in love with his master every day. For his part, Neal can't believe how lucky he is to have found such an innocent but sensual boy.
As they learn what works best for them both, Way has trouble obeying some of the rules Neal imposes. Like the no touching himself rule. Neal wants Way to learn control, but Way, after so long holding back, has trouble not indulging. The two men must work together to find the balance that brings them each the most satisfaction and happiness.
ISBN-13: 978-1-63533-437-1
Product Link: https://www.dreamspinnerpress.com/books/the-doms-way-by-sean-michael-8588-b
Reviewer: Shorty 
Review: Neal and Way are back in this instalment of the Iron Eagle Gym series. They are happy together but still learning about one another. Way has trouble following some of Neal's rules which at times causes tension between the two men.
Neal for his part understands Way's reluctance and they both find common ground so to speak. I loved the characters. They seemed so different from one another yet meshed very well together.
This was a great addition to the series as it explores deeper into Neal and Way's characters. I enjoyed the flow of the story, the tension and the sexy times. 
Great read.