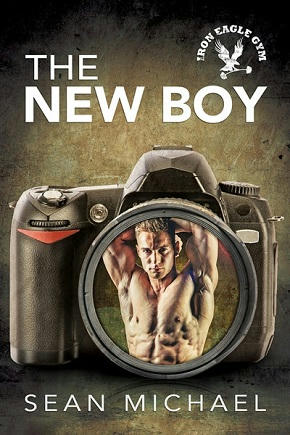 Title: The New Boy
Series: Iron Eagle Gym 01
Author: Sean Michael
Genre: Contemporary, BDSM
Length: Novel (210 pages)
Publisher: Dreamspinner Press (December 4, 2015)
Heat Level: Moderate – Explicit
Heart Rating: ♥♥♥♥ 3.75 Hearts
Blurb: Lance Packet just got a contract to shoot an erotic BDSM deck of cards; the only problem is finding models. So far everyone he's interviewed thinks he's looking for sex for hire. Then in walk three perfect examples of men: Tide and his friends, Tyrone and Bran.
Tide Germaine is a model and a Dom. He and his best friend Tyrone opened The Iron Eagle Gym as a place for gay men in the lifestyle to work out, do scenes, and congregate with like-minded men. The modeling is just another job for Tide, but it soon turns into a grand seduction as Tide falls for the shy, self-conscious photographer. The problem is Lance doesn't believe he's in Tide's league, and he's not at all sure about the Dom and sub thing.
It's not going to be easy, but Tide's going to have to convince Lance he belongs at Tide's side as both lover and sub.
ISBN: 978-1-62380-553-1
Product Link: https://www.dreamspinnerpress.com/books/the-new-boy-by-sean-michael-141-b
Reviewer: Shorty 
Review: This is the first book in the Iron Eagle Gym series. Lance is a shy up and coming photographer has low self-esteem. He meets Tide, a model and co-owner of the iron eagle gym, shows him he is worthy of love and so much more.
Tyrone is Tide's best friend and co-owner of the iron eagle gym. I really liked the actual story of the book and the way Lance was introduced into the BDSM lifestyles by Tide. Tide thinks Lance is the one for him.
What I did not like is that there were so many sex scenes in it. I much prefer to have more story than sex in what I read. I usually only read the first sex scene and skip the rest. It seemed like I was skipping through a lot of this book.
A lot of sex with an emotional storyline made this an o.k. read for me.