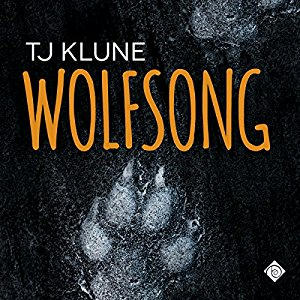 Title: Wolfsong
Series:  Wolfsong 01
Author: TJ Klune
Narrator: Kirt Graves
Genre: Paranormal
Length: 18 hrs, 40 mins
Publisher: Dreamspinner Press (5th October 2016)
Heat Level: Low
Heart Rating: ♥♥♥♥♥ 5 Hearts
Blurb: Ox was 12 when his daddy taught him a very valuable lesson. He said that Ox wasn't worth anything and people would never understand him. Then he left.
Ox was 16 when he met the boy on the road, the boy who talked and talked and talked. Ox found out later the boy hadn't spoken in almost two years before that day, and that the boy belonged to a family who had moved into the house at the end of the lane.
Ox was 17 when he found out the boy's secret, and it painted the world around him in colors of red and orange and violet.
Ox was 23 when murder came to town and tore a hole in his head and heart. The boy chased after the monster with revenge in his blood red eyes, leaving Ox behind to pick up the pieces.
It's been three years since that fateful day and the boy is back. Except now he's a man, and Ox can no longer ignore the song that howls between them.
Product Link: Audible US | Audible UK
Reviewer: Prime
Review: I think it's safe to say that I adore anything by TJ Klune in any shape or form – or rather in any format. I love paranormal-shifter books and so when TJ Klune wrote this one, it was a must have. I mean, really, my two favorite things. What could go wrong? Reading TJ's books is always a thrill and he is always guaranteed to make me laugh like a loon and then pull a "Wookie cry face" as I struggle to hold myself together and cry on public transport. Each and every TJ Klune book has a whole lot of a heart and Wolfsong is no exception.
With Wolfsong I originally read the epub version when it was first released. When I got the opportunity to hear the audio, I forgot basically the entire book except for knowing there was the usual TJ Klune wit, making me laugh and cry.
The story opens when we meet Ox at the age of 12. He is so sweet and once I fell in love with 12 year old Ox, I knew that I would love him as he got older. With an abusive alcoholic for a father, Ox doesn't have an easy life but he just keeps on going, even after being abandoned at the age of 12. Ox struggles with his self esteem. Ox remains a quiet person but one day walking home from work he meets a very talkative and very energetic kid (his complete opposite), named Joe. But Joe has his own issues and Joe's family welcomes Ox with open arms after helping Joe. As years pass Joe grows up and Ox remains to have a low self esteem. Also as the years pass we see Joe and Ox's life and relationship become something that is nothing short of amazing. And Joe… Joe is just simply perfect for Ox.
Wolfsong was also my first experience Kirt Graves narrating and he is totally wonderful. When TJ said that the guy nailed the audition, he also nailed the book absolutely perfectly. He provided a brilliant voice to our main characters and just gave me all sorts of feels.
This is one beautiful, heartfelt ride into the lives of a wolf shape-shifter pack. There is so much packed into this. We got a guy who has been abused and trying to make a life for himself – and manages to surround himself with wonderful people in the process introducing love and family into his life. Ox is just so damn sweet and lovable that I wanted to wrap him up in a blanket and cuddle him close. The sequel is out in 2018 and I can't wait!