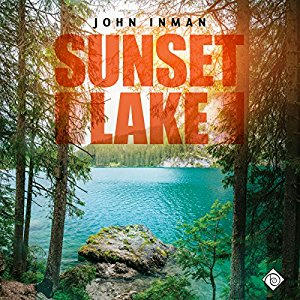 Title: Sunset Lake
Author: John Inman
Genre:  Murder, Mystery, Suspense
Length: 11 Hours and 51 Minutes
Publisher: Dreamspinner Press LLC (February 23, 2016)
Narrator: Randal Schaffer
Heat Level: Moderate
Heart Rating: ♥♥♥♥♥ 5 Hearts
Reviewer: Lisa
Blurb: Reverend Brian Lucas has a secret his congregation in the Nine Mile Methodist Church knows nothing about, and he'd really like to keep it that way. But even his Earth-shattering secret takes a backseat to what else is happening in his tiny hometown.
Murders usually do that.
Brian's "close friend", Sam, is urging a resolution to their little problem, but Brian's brother, Boyd, the County Sheriff, is more caught up in chasing down a homicidal maniac who is slaughtering little old ladies.
When Brian's secret and Boyd's mystery run into each other head on, and Boyd's 15-year-old son, Jesse, gets involved, all hell breaks loose. Then a fourth death comes to terrify the town, and it is Brian who begins to see what is taking place in their little corner of the Corn Belt. But even for a Methodist minister, it will take more than prayer to set it right.
Product Link: Audible US | Audible UK
Review: I had taken one look at the authors name and then the title and knew I wanted to listen to it. What really clicked with me was the length, for I really wanted something to listen to at work. I hadn't had a chance to look at what the story was about so imagine my surprise to find out that the main character was a reverend for the Methodist Church. So the whole time I was like great there will not be any romance or sex. So I decided to look at it and found out that it was a murder mystery which is not one of my favorite types at all. I like those romances that have lots of humor in them. So I was thinking to just ditch the story and forget about it. I am so glad that I did not do that because this story had so many twists and turns, not to mention some hot sex between the reverend and his boyfriend. Now that was a hoot.
Brian has been keeping a secret from everyone but the man he loves and the man's aunt. That is what he thought anyhow but it would be on hold when the first little old lady was murdered. The sheriff who just happens to be Brian's brother lets Brian in on some secrets about the murder. By the next time there were two and he knew something was dangerously stalking the members of his own church.
All the while trying to come to terms that he loves Sam with his whole heart. He has to help solve the murders, keep some one else's secrets and figure out his own life. The killer is close but you will never guess who it is.
John's lighter romance has taken a backseat to his ability to give you a darker story that has some amazing twists to it. I can say that when I found out who the killer was, I about fell out of my chair. I never saw it coming. What's more I kept thinking about the damn story for nearly two days trying to figure out how he did it. I love how it is more than just a mystery, but the romance is an added benefit and it shows the strength that families have together.
Randal is a new narrator to me so I wasn't sure what to expect, but he rocked it. The voices were perfect for each character and gave me an insight into each voice. Although I thought through most of it that he needed to go faster, I realized that the pace for this story was just perfect.
I enjoyed it and would definitely recommend this book. I can't wait for another story by this author and narrator.