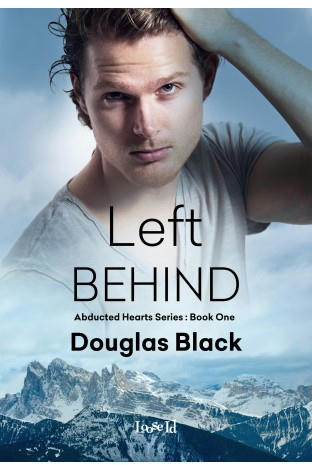 Title: Left Behind
Series: Abducted Hearts #1
Author: Douglas Black
Genre: Contemporary, Paranormal
Publisher: Loose ID (December 12, 2016)
Length: Novella (115 Pages)
Heat Level: Low
Heart Rating: ♥♥♥ 3 Hearts
Blurb:  Faced with the prospect of spending Christmas alone with his daughter, Havana, in the house he used to share with his husband, widower Stewart Robertson heads north to a campsite in Glen Coe in the Scottish Highlands. There, he meets Gary James, an American parapsychologist with beliefs very different to Stewart's own.
The sexual attraction is instantaneous, and overwhelming, and when Gary asks Stewart to spend Christmas with him and his friends in Fort William, Stewart agrees. Knowing next to nothing about each other, the two quickly start a physical relationship.
Stewart, emotional, angry and still reeling from the recent death of his husband, doesn't know if he's ready to start dating again, but he can't deny that he wants Gary, a man who is keeping a secret that threatens to derail any chance of a happy ending before they even get started.
ISBN: 978-1-68252-243-1
Product Link: http://www.loose-id.com/abducted-hearts-1-left-behind.html
Reviewer:  Lisa
Review:  When I chose this book I was thinking on a different line to what this story is about.  I knew I should have read the blurb but nope I decided to just grab and read.  
Stewart lost his husband over a year ago to cancer.  He is left behind with their daughter to figure out how to make life good again.  He is a weird guy who doesn't believe in anything that can't be proven.  He decides to take his daughter to a campsite instead of doing Christmas with her.  Like I said he is weird.  Anyway he meets Gary and Gary's nephew Lucas.  If Stewart doesn't believe in some things such as religion or heaven, can you imagine how he is going to feel about what Gary does for a living.
Gary is a parapsychologist but he has a secret that he is not telling Stewart about.  Something that is bizarre enough to get Stewart to run.  Something that is hard to believe, but Gary is scared that it might just end what is becoming love.
I am sorry but this book is so damn slow paced that it was just off to me.  To top it off ghosts and alien abduction, I am with Stewart on this.  However it is a fantasy book and the story was pretty good even if it was slower then what I would have liked.  I hate to admit that it was just a tad bit boring also.  I hope the next book sparks a bit more interest than this one did. To top it off, it ends in a cliff hanger, not one of my favorite things.