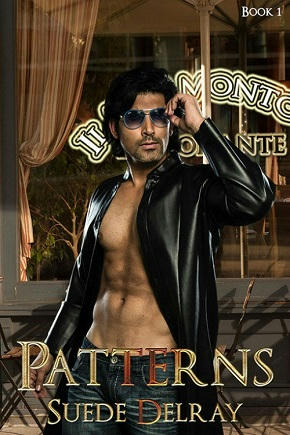 Title: Patterns
Series: Patterns #1
Author: Suede Delray
Genre: Contemporary
Publisher: eXtasy Books (March 18, 2017)
Length: Novella (144 Pages)
Heat Level: Low
Heart Rating: ♥♥♥♥♥ 4.5 Hearts
Blurb: A homicide detective, Dominick's marriage to his job had saved him, helping him to leave his feelings for Rob in the past. Or so he'd thought. Then he ran into Rob on his way to work. Ever since their impromptu meeting, Dominick couldn't stop thinking about the past. Then a suspect in a murder investigation leads Dominick to the Martindale Institute, the very place Rob Dewhurst works.
ISBN: 978-1-4874-1024-7
Product Link:  http://www.extasybooks.com/patterns/
Reviewer:  Lisa 
Review:   When I first saw this book I wasn't too sure if I wanted to give it a chance or not, especially since I have not had a chance to read anything by this author before.  The cover is a bit dark to me, but it turned out that it fit the story perfectly.  It is a romance story, but it is a dark romance with a serious tone to it.  I just wasn't too sure about the story though.
Dominick was born into a huge mob family, but he decided to take a different route, which made sense because being gay in the mob family usually got you killed.  A few years ago he had save a male prostitute that was one of his uncle's boys.  At first it was to protect but soon fell into love.  That love ended the moment Rob decided to go out on his own.  Rob had been controlled by Danny and feared Dominick would do the same.  He realized right after leaving that he had made a mistake.  However it was the end of their story.  That is until now, when they ran into each other on the subway.
Rob was in charge at an institute for kids that were criminals.  Dominick's latest murder leads him right to one of those kids.  The two are thrown back into each other's lives, but the dangers from the past might still be waiting for them.
As I said above this has a dark and serious tone to it, but the romance is slowly building once more.  It is like a lost love that has been rekindled.  I am still not really sure if I like it personally, but the story is pretty damn good.  It was very entertaining and kept my attention from the start.  I enjoyed reading it and can't wait to see what book two has going for it. Although I will admit that the title doesn't do it justice.