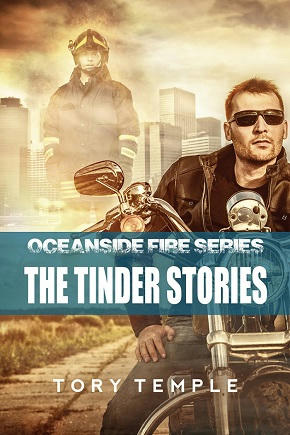 Title: The Tinder Stories 
Series: Oceanside Fire 02
Author: Tory Temple
Genre: Contemporary
Length: Novel (206 pages)
Publisher: Dreamspinner Press (June 19, 2017)
Heat Level: Moderate
Heart Rating: ♥♥♥♥ 3.75 Hearts
Blurb: Return to Oceanside Fire, where the sizzling passion between men scorches everything they touch—especially each other. For firefighter Chris Matthews and instructor Morgan Daniels, it's dislike at first sight—but that doesn't mean there's any relief from the heat building between them, and it only takes a spark to set the tinder ablaze.
Will Chris and Morgan go from enemies to lovers, or will they remain enemies with healthy libidos who stoke each other's flames? Morgan is no fan of firefighters in general, and he finds Chris especially grating. But when they're together, the sexual tension is thick enough to cut with a knife—and there's only one way to work it off. A battle of wills is sure to follow. Add in an age difference, and finding common ground will be an uphill battle. Even if they succeed in building a relationship, secrets and suspicion could reduce everything to ash.
ISBN-13: 978-1-63533-491-3
Product Link: https://www.dreamspinnerpress.com/books/the-tinder-stories-oceanside-fire-series-by-tory-temple-8580-b
Reviewer: Shorty 
Review: Chris and Matthew have enough tension between them to cut a knife. The give and take between them was intense as well as the sexy times they had with each other. I found it intriguing that two men who seem to hate one another are also attracted to each other.
There was no shortage of sexual tension throughout. I felt at times it was a little overboard but still a good read to continue. I felt they should have talked rather than fight. Then maybe there would have been a better understanding between them.
Overall it was an enjoyable read. Chris and Matthew sizzled on the pages throughout.
Good read.