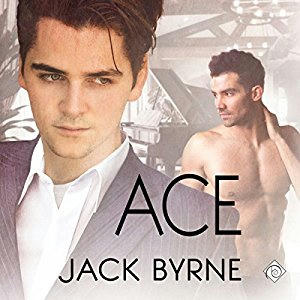 Title: Ace
Author: Jack Byrne
Narrator: Jonathan David
Genre: Contemporary
Length: 5 hrs 37 mins
Publisher: Dreamspinner Press LLC (31 March 2016)
Heat Level: Moderate
Heart Rating: ♥♥♥ 3 Hearts
Blurb: Jake Tanner is a gay asexual man who finds peace on his small Australian farm and is content to lead a quiet life taking care of his animals. Then a random act of kindness on his part sets in motion a complex series of events that results in him playing the piano in a local pub and meeting Damien Jamieson, a sexy gay biker with a penchant for leather. Damien finds Jake instantly irresistible, but that could be the worst thing for their budding relationship, as Damien is determined to bed the reluctant Jake. However, Jake has no intention of going along with his plan. If there's a chance for anything between them, Damien will have to figure out how to turn Jake on without scaring him off.
Product Link: Audible US | Audible UK  
Reviewer: Prime
Review: I don't know what to say about this book. I really do have mixed feelings about it. I've heard of Jack Byrne before but never actually read or listened to the audio of one of his books until now.
Set somewhere is country New South Wales or Queensland in Australia (not entirely sure which state), we first meet Jake, he is both gay and asexual where he works his farm. He meets a stranger who comes to town one day, sexy gay biker Damien Jamieson – who ends up being not so much a stranger Jake's best friend makes their chance encounter perhaps a little more. Jake and Damien get to know each other more when Jake becomes something of a part time musician down at the local pub. That's "the bare bones" of the story, as they say.
The story itself I have no problems with – the premise is interesting and totally hot for those that love a cowboy/jackaroo/country boy, as is the attraction between the characters. However, one thing that I found really difficult to get past was how the author handled the fact that his main character, Jake, is asexual. At times it felt like the usual trope along the lines of "he just hasn't met the right guy yet", which is comparable to a gay person being treated as that they "haven't met the right girl yet". I'm going to leave it at that but take that as you like – or maybe just ignore me, it all depends on your tastes after all.
As for the narration, again I didn't have any outright objections to the narration. Jonathan David has a wonderful voice and helped me connect with Jake a little more than I would have if I had read the book. However, I am Australian, and we tend to go to the shortest, some may say laxiest, pronunciation if possible. While the narration has no real accent present there were a few glaring mispronunciations that had me wanting me skip over sections. For example an Australia pronounces "Melbourne" is "Mel-ben", "Brisbane" is "Bris-bin" and chooks (slang for chicken) is pronounced the same as in "hooks". These were the three mispronunciations, the very American "Mel-born", "Bris-bane" and "chooks" as in "choo-ks", which really grated on my nerves. There were a couple others but I won't further bore you with details.
I think this is one of the take it or leave it – love it or hate it – type of stories. For me, while I didn't hate it – hate is too strong a word – I am definitely going to leave it.