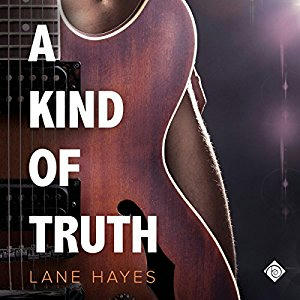 Title: A Kind of Truth
Series:  A Kind of Series 1
Author: Lane Hayes
Narrator: Seth Clayton
Genre: Contemporary
Length: 8 hrs 29 mins
Publisher: Dreamspinner Press (3 May 2016)
Heat Level: Explicit
Heart Rating: ♥♥♥♥♥ 5 Hearts
Blurb: Rand O'Malley dreams of superstardom. He hopes to one day sing the blues like a god. Moving to New York City and hiring a new manager are steps to make his dreams a reality. But nothing moves as fast as Rand would like, and everyone has opinions, for example that he should keep certain pieces of himself quiet if he plans on making it in the Big Apple. Like his bisexuality.
Will Sanders is a gifted musician who dazzles Rand with his ability to coax gorgeous notes from an electric guitar one moment and play the piano like a professional the next. He's a geek, but Rand isn't concerned about Will's pressed exterior clashing with his tattoos. His focus is music. Yet there's something about Will that makes Rand think there's much more to the quiet college student than he lets on. As Rand's dreams begin to materialize, he's forced to reconsider his priorities and find his own kind of truth. One that might include Will.
Product Link: Audible US | Audible UK
Reviewer: Prime
Review: A Kind of Truth is the first in Lane Hayes' A Kind Of series. Interestingly enough, this is a book that I had trouble enjoying when I first read it – only rating it a 3.5/5 and I was annoyed at too much "telling", not enough action and slow plot development. Yet with the audio I absolutely fell in love with the story and the characters and definitely deserves a 5/5. What can I say? Sometimes there are some books that read better as audios rather than off the page and for me this is a perfect example.
This is the story of rock musician, Rand, who like many before him has dreams of fame and fortune in New York. He and his band play gigs and are just doing what they need to in order to find fame – and that includes Rand having to hide the fact that he is bisexual. In need of a guitar teacher, he meets college student Will, who tutors guitar on the side to make extra money. Will's in debt and will do whatever it takes to get rid of his student loans and whatnot. Quickly, it's obvious that Will is keeping all kinds of secrets. It's almost as if this book is essentially an unravelling of Will. The story is generally a very sweet romance, and starts off rather light hearted and at about the halfway point there is a major shift to a more serious frame of mind.
The story is totally from the POV of Rand – our wannabe rocker. Seth Clayton, the narrator, lends the perfect amount of desperation and determination and vulnerability to the character. Unlike when I read the story where I found it difficult to connect with Rand, I completely fell in love with him as much as I completely fell in love with Wil. Will is a positively wonderful character and one that many of us, including myself, could relate to. Will is a fantastic guy and he has so many hidden layers – him wanting to give up everything to go back into the closet for his family was both frustrating and made me upset on Rand's behalf.
Their romance is beautiful and sweet and they work hard to be together.