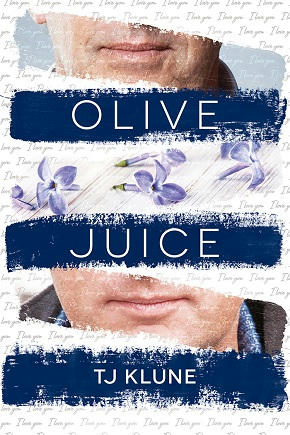 Title: Olive Juice
Author: T.J. Klune
Genre: Contemporary
Length: Novella (121 pages)
Publisher: Dreamspinner Press (April 26, 2017)
Heat Level: Nil
Heart Rating: ♥♥♥♥♥ 5 Hearts
Blurb: It begins with a message that David cannot ignore:
I want to see you.
He agrees, and on a cold winter's night, David and Phillip will come together to sift through the wreckage of the memory of a life no longer lived.
David is burdened, carrying with him the heavy guilt of the past six years upon his shoulders.
Phillip offers redemption.
ISBN-13:  978-1-63533-502-6
Product Link: https://www.dreamspinnerpress.com/books/olive-juice-by-tj-klune-8409-b
Reviewer: Shorty 
Review: I have read a few T.J. Klune books but none of them shattered me emotionally as this one has done. I refuse to give any spoilers so with that in mind I will say it's dark and about two men, David and Phillip, struggling with ways to cope with what was, has been and could have been among other things. 
As I said my emotions are shattered. When reading you think you know where the story is headed and you could not be more wrong. I was impressed with the writing and story line. 
Fantastic read.