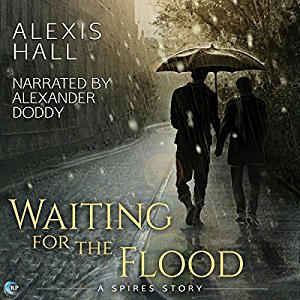 Title: Waiting for the Flood
Series: A Spires Story
Author: Alexis Hall
Narrator: Alexander Doddy
Genre: Contemporary
Length: 2 hrs, 51 mins
Publisher: Riptide Publishing (23rd May 2016)
Heat Level: Moderate
Heart Rating: ♥♥♥♥♥ 5 Hearts
Blurb: People come as well as go.
Twelve years ago, Edwin Tully came to Oxford and fell in love with a boy named Marius. He was brilliant. An artist. It was going to be forever.
Two years ago, it ended.
Now Edwin lives alone in the house they used to share. He tends to damaged books and faded memories, trying to build a future from the fragments of the past.
Then the weather turns, and the river spills into Edwin's quiet world, bringing with it Adam Dacre from the Environment Agency. An unlikely knight, this stranger with roughened hands and worn wellingtons, but he offers Edwin the hope of something he thought he would never have again.
As the two men grow closer in their struggle against the rising waters, Edwin learns he can't protect himself from everything – and sometimes he doesn't need to try.
Product Link: Audible US | Audible UK
Reviewer: Prime
Review: Waiting for the Flood is heartbreakingly sweet and heartwarmingly beautiful. I had no expectations when I first started this one as I had no heard of Alexis Hall before reading the blurb for this one. I instantly fell in love with the story and the characters. The narration by Alexander Doddy was superb and lent the perfect voice to both MCs, although I would say that I loved his interpretation of Edwin the most.
Edwin Tully (I just love how English that name sounds!) is something of a tragic figure in this story. At the age of thirty he was very single and very lonely after his lover of ten years left him two years ago. Really, Edwin was miserable but the guy he was eating his heart out over seriously didn't deserve such an awesome and sweet guy. What makes it worse is that even though the house they used to share is only occupied by Edwin, it is like a place of cold memories that make me think of My Chemical Romance, or some other emo song. When flood threatens his quiet cottage, Edwin tries to get sandbags for both his cottage and his elderly neighbour's cottage.
Ian Dacre, who presses all of Edwin's buttons – the good and bad, arrives in Edwin's village when the threat of a catastrophic storm threatens homes. Ian is with the Environment Agency, he is an engineer and proud of what he does. Ian is immediately attracted to Edwin but knows that he has to be gentle with his approach to the skittish man. Ian brings in a lot of sweetness and a lot of light that Edwin so desperately needs and all Ian does to start with is loan Edwin a pair of gum boots.
An absolutely beautiful story. I especially love the comic relief of the ending – which features a recipe with Ian and Edwin's input and probably much needed after shedding more than a few tears in the course of story.