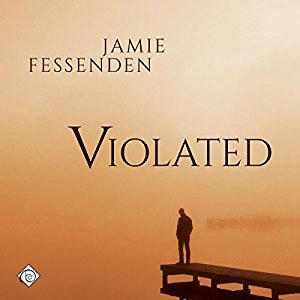 Title: Violated
Author: Jamie Fessenden
Narrator: KC Kelly
Genre: Contemporary
Length: 9 hrs, 42 mins
Publisher: Dreamspinner Press (21st March 2016)
Heat Level: Moderate
Heart Rating: ♥♥♥♥ 4 Hearts
Blurb: Derek Sawyer thinks he has it all – a high-salaried position, a boyfriend, a dog, even a new cabin on the lake – until a business trip with his manager and best friend, Victor, shatters his world.
One night of drunken horsing around in their hotel room leads to the most intensely personal violation Derek has ever endured. As if the humiliation of working under his attacker every day isn't enough, Victor reports Derek for sexual harassment. Now he's without a job, without a boyfriend, and the mortgage on the cabin is due.
Officer Russ Thomas has worked with rape victims before, and it doesn't take him long to sort out the truth in Derek's tale. With his support, Derek finally reports the crime, months after it happened. But restraining orders and lawyers further Victor's anger toward him, and even though a relationship develops between Derek and the policeman, Russ can't be there to protect him all the time.
Product Link: Audible US | Audible UK
Reviewer: Prime
Review: I'm not going to lie, this is a real hard hitting book to listen to, or read for that matter. If you are victim of rape or sexual abuse and still coming to terms – please do not go near this book, if for nothing else there is a graphic rape scene. Being that I know a victim of sexual abuse, I found it difficult in sections. However, at the same time, I think that the rape was very tastefully approached without making it into a horrible joke. This was a very difficult listen for me, but it was totally worth it and I loved it.
The primary character is Derek Sawyer, who is more than happy with where he has gone in life. He has a high paying job, a boyfriend, a dog he loves (even if the boyfriend doesn't) as well as the cabin on a lake that he has always dreamed of owning. His neighbor at the cabin is Russ Thomas, a police officer that also loves dogs (he has his own). Russ is instantly attracted to Derek but backs right off when he realizes that Derek has a boyfriend, no matter how much Russ does not like the man.
However, when a man who Derek thought of as a friend as well as work colleague rapes him on a business trip, Derek's world is understandably turned upside down, especially when his rapist files a sexual harassment complaint at work. It was so utterly heartbreaking – with Derek finding it difficult to even function as a human his life was crumbling around him. But when the chips are down it is Russ that is there to help Derek through. What emerges is then a very sweet love story despite the trauma.
The only thing that I didn't like so much was the epilogue – we went from Derek and Russ starting to build something (seriously, it was just the beginning), and then the epilogue is two years later and Derek has come to terms with his trauma that he's ready to be intimate again. Seriously, there were at least a couple chapters of story – of tears, of counseling to give us more of a clue of how the guys got two years later.