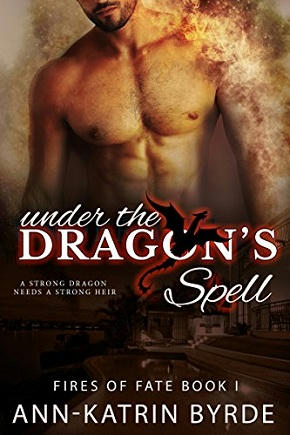 Title: Under the Dragon's Spell
Series:  Fates of Fire # 1
Author: Ann-Katrin Byrde
Genre: Paranormal, Werewolves & Shifters
Length: Novella (179pgs)
Publisher: Ann-Katrin Byrde (April 28, 2016)
Heat Level: Moderate
Heart Rating: ♥♥♥♥ 4 Hearts
Blurb: When his boyfriend of two years kicks him out because he just can't get pregnant, Adrian is heartbroken. Coming from a broken home, all he's ever wanted was to start a family of his own. But now it's starting to look like that's never going to happen. Worse yet, he has to move in with his brother to keep from living on the street, and the prevalent bias against men with the ability to carry children keeps him from finding a job of his own.
He's about ready to give up hope when he finds a job offer in the newspaper searching for someone to produce an heir for a rich dragon shifter. Having a baby with a stranger, even if he's enigmatic and hot as hell, is not Adrian's definition of happiness, but he figures he's got nothing left to lose.
Dragon shifter Tyrel has no interest in mating, but if he doesn't become a parent by the age he's thirty, his family's considerable wealth will fall to his brother. To prevent that from happening, he plays along when his mother invites several omegas to their mansion for him to pick a partner, even though he believes all humans to be fools. His opinion on this only changes when he meets Adrian and he hears fate whisper in his ear.
But Adrian has trouble conceiving, and even when he does, carrying a dragon's child comes with its own set of complications.
If you like omegas and dragons, fated lovers and men who become pregnant and live happily ever after, add this romance novel to your library!
ISBN: B01EKOGXAM
Product Link: https://www.amazon.com/dp/B01EKOGXAM
Reviewer: Shorty 
Review: Adrian answers an ad at his brother's insistence, for someone who is willing to carry a dragons offspring. Upon meeting the man who is looking he is smitten. But at the same time he is cautious when said dragon tries to use his power on him. 
Tyrel thinks all humans are easy and below him until he meets Adrian. He is intrigued by the one man who he cannot control. But his mother is not happy about his pick. 
I liked the fact that Adrian was not easily cowed by Tyrel and gave him a run for his money. I thought it was cute when Adrian got jealous at Tyrel going out with the other candidates. The details of the island were awesome. I loved reading about the island.
Great read.