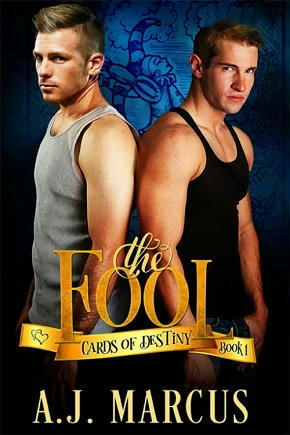 Title: The Fool
Series: Cards of Destiny 01
Author: AJ Marcus
Genre: Urban Fantasy, Paranormal
Length: Novella (84 pages)
Publisher: eXtasy Books (24 Feb 2017)
Heat Level: Explicit
Heart Rating: ♥♥♥ 3 Hearts
Blurb: When the past comes back to haunt them, can these two men rekindle the flame they thought they'd lost and the magic that comes with that love?
When Arron Carmichael and Ramsey Roland broke up it devastated both of them, but Ramsey couldn't handle Arron's family secret. When the family business brings them together, they discover Ramsey has a secret larger than any Arron thought possible.
Arron is part of the Gardener family, a group of witches who have protected the world from daemons for thousands of years. Ramsey couldn't deal with the magic that was an intricate part of Arron's life, so he told Arron they were finished, and he needed to leave. His decision left two hearts broken.
When Ramsey is mugged while going to a bar to hang out with friends, it opens him up to the world Arron had hinted at, but it also brings Arron back into his life. Arron does his best to save Ramsey from the dark forces that are hunting them both. When they learn the reason Ramsey is being hunted, it shocks them both to their cores but brings them closer together. Only together can they hope to defeat the forces working against them.
ISBN: 978-1-4874-1021-6
Product Link: http://www.extasybooks.com/the-fool
Reviewer: Prime
Review: I'll keep this short and sweet, because what you see in the blurb is basically what you get in the novella. I have to say, when I want a quick, satisfying escape from reality, AJ Marcus books are really thoroughly enjoying. While The Fool isn't at the top of my list of favourite reads by Marcus, I admit that I enjoyed the story enough that I am curious about the rest of the series.
The story is about Ramsey and Arron. Ramsey is just an ordinary type of guy who is very easy for the reader to relate to, he's just trying to get by and wants something more in his life when it comes to love. Arron is from family who possesses magic and they use their magic to protect the world from daemons – something that they have done for thousands of years. Basically, think of them as Buffy the Vampire Slayer except its one family doing all the work.
These guys were once boyfriends and have never really fell out of love. The problem was that Ramsey had issues with Arron's unique family situation and the magic involved. Understandably this led to the situation where the guys broke up until they were brought back together two years later. In the blurb and in my review, it does make Ramsey sound incredibly selfish, I suppose in some ways he is, but still it works and somehow I still found Ramsey a likable character. However, this situation does make the reader more sympathetic to Arron – I mean, he couldn't help that he came from a family daemon slayers.
Of course there are more family secrets and it makes it, overall, a bit of wild ride.