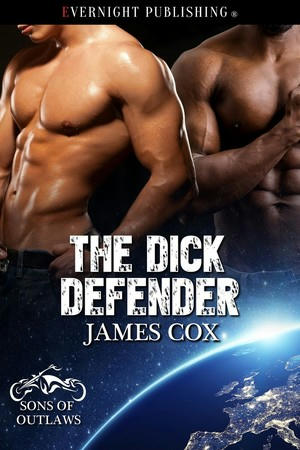 Title: The Dick Defender
Series:  Sons of Outlaws # 4
Author: James Cox
Genre: Futuristic, Erotic, Interracial, Sci-Fi, MC Romance
Length: Short (69pgs)
Publisher: Evernight Publishing (March 30, 2017)
Heat Level: Moderate
Heart Rating: ♥♥♥♥♥ 5 Hearts
Blurb: Helrick doesn't use bodyguards for protection, he uses them in his bed. Spoiled, foolish, and horny describe the president's son. Hel isn't interested in anything but his next lay. When a new guard, Sin, arrives intent on keeping Hel at a distance, he finds it a worthy challenge. It's only a matter of time before Hel gets what he wants, but when the threat he's been warned about his whole life comes true, only Sin can save him. Add that to the biggest storm of the century hitting their little city on Mars and Hel might finally need a real bodyguard.
As assassins focus on Hel and the storm inches ever closer, Sin must use all his skills to protect the president's son and the foolish flirt he's falling for. Even if it's with his own life.
ISBN: 978-1-77339-238-7
Product Link: http://www.evernightpublishing.com/the-dick-defender-by-james-cox/
Reviewer: Shorty 
Review: Hellrick, the son of Justice and Romeo doesn't seem to take anything seriously. His only concern seems to be the next conquest. He loves seducing the bodyguards sent to protect him. He does not think he needs them and is tired of feeling like a prisoner. 
His new bodyguard Sin is determined to keep Hel safe. When assassin's and a storm threaten Sin springs into action. I loved this story but I was surprised by Hellrick. He did not seem like the other MC's. But still I loved him. 
Fast paced, action packed, intense, and a great addition to the series.
I highly recommend it to all.