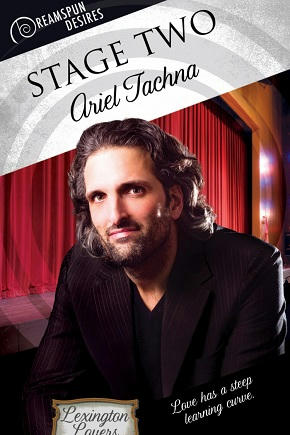 Title: Stage Two
Series: Dreamspun Desires 33 / Lexington Lovers 03
Author: Ariel Tachna
Genre: Contemporary
Length: Novel (224 pages)
Publisher: Dreamspinner Press (1 May 2017)
Heat Level: Moderate
Heart Rating: ♥♥♥♥ 4 Hearts
Blurb: Love has a steep learning curve.
Assistant high school principal Blake Barnes has everything he wants—a chance to help troubled students and an outlet for his passion for theater. Well, almost everything—he still goes home to an empty apartment. Then his high school crush explodes back into his life, the unexpected guardian of two boys in Blake's care.
Thane Dalton has always been a bad boy through and through. Not much has changed, including his mistrust of authority figures, and no amount of institutional bureaucracy will keep him from protecting his nephews from the bullies terrorizing them. If that means butting heads with Blake, so be it.
Blake and Thane have lessons to learn: that they both have the boys' best interests at heart, that the tension between them isn't just confrontational, and that sparks can fly when opposites come together.
ISBN: 978-1-63533-149-3
Product Link: https://www.dreamspinnerpress.com/books/stage-two-by-ariel-tachna-8325-b
Reviewer: Prime
Review: For me Ariel Tachna has always been a bit of a hit and miss author when it comes to me enjoying the story and wanting to read until the end. In fact, this is the first book I've read by Tachna in over a year because I've been waiting for a blurb that just grabs me. Needless to say this story has been intrigued.
It is the story of assistant high school Principal Blake Barnes who loves his job because it allows him to do the two things he is most passionate about: teaching/helping teenagers and the theatre. This year the school is being a bit more ambitious with their theatre production – they need a lot more complex sets than usual – but it is clear that Blake thrives on his work. In a roundabout way this is how Blake's high school crush Thane Dalton explodes into Blake's very ordered world.
Thane was a senior when Blake was a freshman, so Thane never knew that Blake existed. Thane was known as the bad boy at school, he was never shy when it came to picking a fight or fight with authority. He's worked hard to become the man he is – one which owns his own construction company. He just never planned that there would come the day when he had to become the guardian for his orphaned teenaged nephews. He has moved them to a new school, where the boys are targeted by the school jocks.
When Blake steps in to help the boys, he meets with Thane and fireworks explode. Just, not in the good way at first. Thane is true to himself and quick to judge Blake, who is trying his hardest to help. While trying to help the vulnerable teens, Thane and Blake start to develop a friendship.
I really did love this book but there is one reason why I couldn't give it a 5/5… Thane, pain in the butt that he is, is used to completely misunderstand and hurt Blake with his anger. Seriously, that one act by Thane really pissed me off. I had thought that the man had learnt his lesson by now and part of me didn't like how it flowed with the rest of the book. But in saying that, I did enjoy how Kit and Philip, Thane's nephews, stepped in to help right the situation.