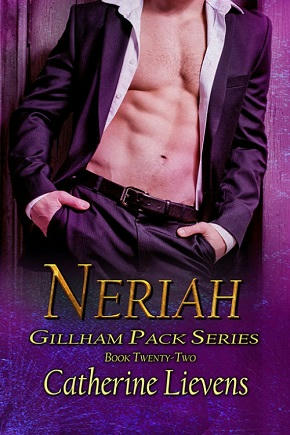 Title: Neriah
Series: Gillham Pack  #22
Author: Catherine Lievens
Genre: Paranormal
Publisher: eXtasy Books (May 12, 2017)
Length: Novella (123 Pages)
Heat Level: Moderate
Heart Rating: ♥♥♥♥♥ 5 Hearts
Blurb:  Sometimes you realize what you have only when you're on the brink of losing it.
Neriah arrived in Gillham after spending two months as his tribe leader's fake hostage. Now he works part-time in a flower shop, plays big brother to the street kids flocking to Gillham, and thinks of ways to stop his tribe leader from ruining his life. He thinks his life can't get any more exciting—until he meets his mate.
Connor is human, and the only reason he's in Gillham is to write about the pack for the Daily Beacon. He's lucky enough to get an exclusive interview with Alpha Rhett, but things get weird when a small blond man with pointed ears tells him they're mates right in the middle of the interview.
Connor is wary of the mate bond and insists he doesn't believe in soul mates. Neriah is focused on changing Connor's mind at all cost—and that includes by dating him. But Gillham isn't the sleepy little town it used to be anymore, and the humans set against the pack are starting to create problems again. Connor risks losing Neriah forever when he's kidnapped, and that makes him realize how much he cares for his mate. 
Will that realization come too late? 
ISBN: 978-1-4874-1037-7
Product Link: http://www.extasybooks.com/neriah/
Reviewer: Lisa
Review: Each book in the Gillham Pack collection features a new romantic couple. To enjoy the overall story arc and crossover characters, I would recommend reading the series in sequential order. This series is also connected to the Whitedell Pride collection. There is nothing better than a good paranormal romance with two gorgeous men involved.
Catherine Lievens has moved up the line to be one of my top favorite authors and from the way her stories are told, she will probably stay there. Her characters are quirky as hell, protective to the point of well you can guess that answer. I still have my ultimate favorite ones but many start to work their way into my heart. Her stories also are full of action, suspense and danger plus some hot sexy time for our guys. They catch my attention the moment I start reading and keep it all the way to the very last word. This story gave me everything I could ask for in a story and so much more. 
Neriah is a nix and is feisty as hell.  He is a blast to get to know and his mate is in for a shock.  He is trying to get his tribe to realize that they need to live their own lives, but his focus is on his mate as well.  A mate that is human, a reporter and doesn't believe in soul mates.
Connor is just trying to help the public know that the paranormal's are not a danger to them.  That they just want to live their lives in safety, mate and take care of their people.  He had not expected to find himself a mate.  To top it off they were in danger from the hunters and well if you want to know more, you're going to have to read this amazing book.
I love how it has that serious tone to it but there is a bit of humor in it that your attention is captivated throughout it all. I loved the cover and that was what caught my attention first. Although to be honest any book that Catherine writes is automatically bought by me. I just can't seem to get enough of this series. There is something about the way that she tells you a story more than likely have you laughing your ass off at parts of it. 
This story is perfect for when you are trying to take a break or when you just need the sun to shine for you. It caught my attention from the moment I started reading and kept it all the way to the end. It also gave me everything I could want in a book. I can honestly tell you that this is going to be one of those types of series. One that I will have to read over and over. I love the way all the feelings they felt was involved in this story. It was the perfect story for me and I loved it. I can't wait to read the next story.