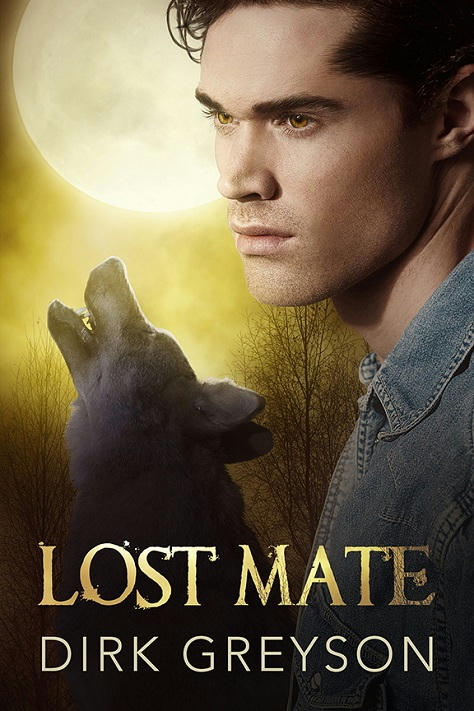 Title: Lost Mate
Author: Dirk Greyson
Genre: Werewolves, Shapeshifters
Length: Novella (96 pages)
Publisher: Dreamspinner Press (May 1, 2017)
Heat Level: Moderate
Heart Rating: ♥♥♥♥♥ 5 Hearts
Blurb: Wolf shifter Falco Gladstone knew Carter McCloud was his mate when they were in seventh grade, but school and the foster care system tore them apart. Years later, Falco is second in command of his Michigan pack, serving under an uncle who cares more about his own power than the welfare of their people. The alpha orders Falco to marry and produce offspring—but Falco's already found his mate, and mates are forever.
Carter's lonely life is turned upside down when he detects a familiar scent on the wind. The mates might have found each other, but their happily ever after is far from guaranteed. Falco's commitment to Carter puts him at odds with his uncle's plans, and when one of the alpha's enforcers starts shadowing the couple, something must be done—something that will either cement their relationship or destroy it once and for all.
ISBN-13: 978-1-63533-705-1
Product Link: https://www.dreamspinnerpress.com/books/lost-mate-by-dirk-greyson-8427-b
Reviewer: Shorty 
Review: A story about two boys who were torn apart but later reunite. Standing in the way is a power-hungry homophobic Alpha who believes all same sex pairs should be eradicated. I found Falco to be quite determined. He seemed to know when to go with the flow and when to stand his ground. Which was good considering his Alpha was his uncle and would not think too kindly on him when he finds out Falco is gay. 
I simply adored Carter. He is a half wolf and smells Falco as his mate. Though the two grow closer they have to be careful but like with many stories, it would not be good without a secret getting out and causing tough decisions to be made.
Absolutely fantastic read that leads the reader into the lives of two men who are meant to be together but have obstacles to overcome and danger to live through before they can find their happy ever after.
Highly recommended.