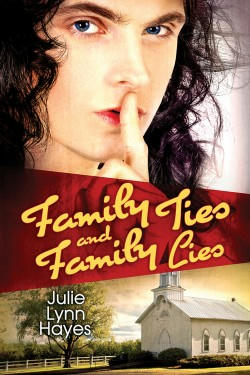 Title: Family Ties and Family Lies
Series:  Rose and Thorne # 3
Author: Julie Lynn Hayes
Genre: Contemporary
Length: Novella (135 pages)
Publisher: Dreamspinner Press (November 23, 2016)
Heat Level: Moderate
Heart Rating: ♥♥♥♥ 4 Hearts
Blurb: Secrets is a dirty word when it comes to relationships. What you don't say can not only hurt you, it can bite you in the butt.
After almost five years together, Vinnie and Ethan have a policy of don't ask, don't tell. But unspoken questions between them are a ticking time bomb, waiting to explode. An innocent remark by a friend starts an insecure Vinnie wondering about things he never considered before… such as why he hasn't met Ethan's family. Is he the love of Ethan's life or just his dirty little secret? And what hasn't he told Ethan about his own past?
An emergency phone call from Ethan's twin sister sends them rushing to Georgia. In order to be with Ethan, Vinnie conforms to what Ethan's family expects by being something he is not. Not everything is what it seems as Vinnie and Ethan work to redefine what family means to each of them.
Sometimes the ties that bind are the ones that might just break you.
The author is donating 10% of the royalties from this book to No Kid Hungry. Visit nokidhungry.org for more information about this organization.
ISBN-13: 978-1-63477-796-4
Product Link: https://www.dreamspinnerpress.com/books/family-ties-and-family-lies-by-julie-lynn-hayes-7794-b
Reviewer: Shorty 
Review: Secrets in a relationship can possibly be the end of it. Vinnie starts questioning his with Ethan because of a friend. A phone call to Ethan reveals family problems so the couple immediately head to Georgia.
Vinnie finds out that Ethan's family has no idea Ethan is gay so he is forced to act like and be something he is not, which puts strain on their relationship. I don't really understand why Ethan took so long to admit to his family who Vinnie really was. 
I admired the dedication and lengths that Vinnie went to in order to be with Ethan around his family. It was admirable. Ethan's family dynamics was weird to say the least. Never the less I was glad to finally get to read about Ethan's family.
Great read.