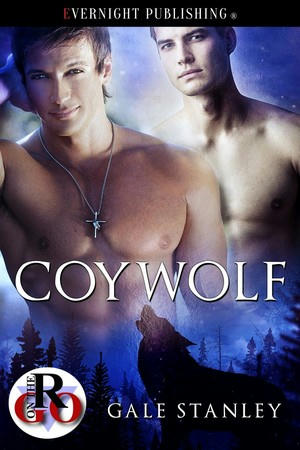 Title: Coywolf
Author: Gale Stanley
Genre: Paranormal, Shifter
Length: Short (34pgs)
Publisher: Evernight Publishing (4th April 2017)
Heat Level: Low
Heart Rating: ♥♥♥♥ 3.5 Hearts
Blurb: In a world where reproduction is the number one priority, a gay wolf shifter could never be an alpha. So, Logan hides his secret from the pack and resigns himself to a life without love. 
Then one night, he finds his true mate and he's forced to make a choice that will change his life forever. 
ISBN: 978-1-77339-247-9
Product Link: http://www.evernightpublishing.com/coywolf-by-gale-stanley/
Reviewer: Veronica
Review: This author hit this story on all levels. I love the characters and the interaction, I read it right through. Logan is the Alpha of the Maccon pack and he's Gay. Yet no one knows that he's gay, and he have to keep it quiet, because no one in the pack will accept him if they know. Out on a run, Logan hears whimpers. Something is in pain, as he gets closer, he smells this amazing scent. When he gets close to the area, he finds a wolf/coyote caught in a steel trap. Logan takes the injured shifter to the pack Doctor, but he still doesn't shift. He takes him back to his place after he is patched up.
Rory escaped from an abusive Alpha that held him prisoner, and he doesn't trust anyone. He was abused because he is gay. When Logan finds out that Rory is his mate, he has to make a decision about telling his pack about him being gay. Because there is no way that he'll give up his mate for his pack. He however is very shocked, when he reveals to his pack that he is gay. I would recommend this book to anyone interested in reading a shifter romance.