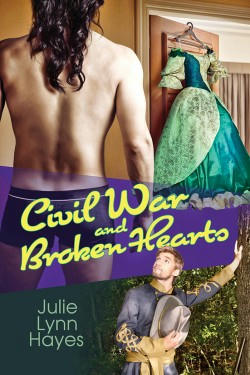 Title: Civil War and Broken Hearts
Series:  Rose and Thorne # 2
Author: Julie Lynn Hayes
Genre: Mystery, Suspense
Length: Novella (140 pages)
Publisher: Dreamspinner Press (August 24, 2016)
Heat Level: Moderate
Heart Rating: ♥♥♥♥ 4 Hearts
Blurb: Hollywood comes to Roanoke when a major film studio announces they're shooting part of their Civil War film at a local plantation. Vinnie is dismayed to discover the lead actress is none other than the beautiful Caroline St. Clair. Ethan and Vinnie met her in LA the previous Halloween, and Vinnie still hates her for hitting on his man. Ethan reassures his partner that Roanoke is big enough for all of them to coexist without running into one another.
But Fate has it in for Vinnie and Ethan, and they're assigned to a new case involving the actress. Vinnie has no choice—he has to play nice. It's small consolation that his new undercover identity involves Hollywood heartthrob Troy McGarrett, who is very handsome and openly gay. Troy also isn't shy about letting Vinnie know he finds him attractive.
Jealousy abounds, and time is not on Vinnie and Ethan's side. If they don't solve the case before the film shoot is done, there's a good chance they'll be separated for the first time since they were partnered. Assuming Vinnie doesn't kill Caroline St. Clair himself. 
The author is donating 10% of the royalties from this book to No Kid Hungry. Visit nokidhungry.org for more information about this organization.
ISBN-13: 978-1-63477-547-2
Product Link: https://www.dreamspinnerpress.com/books/civil-war-and-broken-hearts-by-julie-lynn-hayes-7371-b
Reviewer: Shorty 
Review: Ethan and Vinnie are back in this installment of Rise and Thorne. These two are still going strong after five years and like most couples it has its ups and downs. Ethan tells Vinnie about a filming of a civil war movie being planned in their town and who the actress is starring in it. Vinnie cannot stand Caroline St. Clair as he is sure she wants Ethan.
Ethan and Vinnie get a call from their boss for a new assignment. Unfortunately for Vinnie the assignment involves protecting Caroline St. Clair, the last person he wants to be around. What starts out as a protection detail quickly devolves into divide and conquer, then have Vinnie off the case. 
An enjoyable read with several twists that are entertaining and keep the reader interested. I found I did not care for Caroline. She seemed superficial in her plans to get her ex back by using Ethan and causing trouble between Vinnie and Ethan. 
Great read.