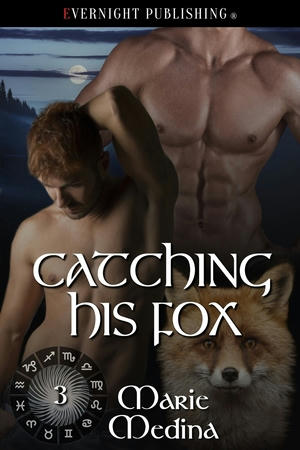 Title: Catching His Fox
Series:  Year of the Suns # 3
Author: Marie Medina
Genre: Paranormal, Fantasy, Shifters, Vampires
Length: Novella (88 pages)
Publisher: Evernight Publishing (February 21, 2017)
Heat Level: Moderate
Heart Rating: ♥♥♥♥ 4 Hearts
Blurb: Seeing both of his brothers find happiness with their fated mates has convinced Byron that he can't simply go on doing nothing. He found his fated mate five years ago, but a tragedy kept him from confessing the truth to Kit. He decides to go back and take a chance, unable to go on living with nothing but dreams of what he could have with his mate.
Kit has lived a quiet, withdrawn life since his parents and brother were murdered, but he's beginning to wonder what else is out there for him in the world. He's stunned to learn he's a vampire's fated mate, but Byron wins him over quickly with his kindness and patience. Though he isn't sure he can accept the mate bond yet, Kit sees his chance to explore the world as he learns more about this gentle vampire who has waited five years just to be with him.
ISBN: 978-1-77339-187-8
Product Link: http://www.evernightpublishing.com/catching-his-fox-by-marie-medina/
Reviewer: Shorty 
Review: This was a sweet story. Byron's gentleness and understanding toward Kit just made me melt. He was sincere in everything he did. 
Kit was quiet and trying to live his life after the death of his family. Beginning to live again he never thought he had a mate who cared as much as Byron did. I loved the interactions between these two. They were so made for one another it made my heart melt.
Great read.