Hi guys, we have Greta Stone popping in today with her new release Cry Wolf, we have a great excerpt and a brilliant giveaway, so check out the post and click that giveaway link! ❤ ~Pixie~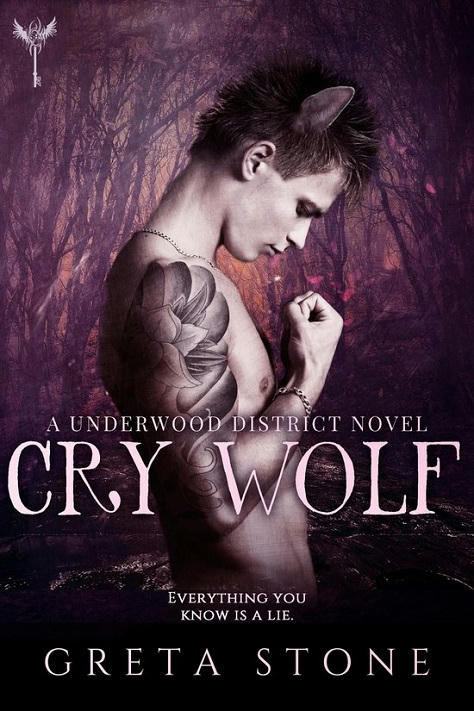 Cry Wolf
by
Greta Stone
Peter is a kitsune. Chaos follows him wherever he goes. Good intentions, bad intentions—it doesn't matter. Even mimicking the howl of a friend he hasn't seen in over a decade turns out to have disastrous consequences.
The wolf doesn't have a name. For now, he goes by Luca. He has no past, and as an escaped slave, if he can't stay hidden in the shadows, he'll have no future. When someone steals his howl, he's drawn to investigate, and ends up saddled with a mouthy fox who insists they used to be friends once upon a time.
Petty problems and a dubious reunion are pushed aside the longer they're stranded together. The Underwood is a dangerous place.
They have two choices: work together or die.
Join Greta Stone in a dark paranormal MM romance retelling of Aesop's fable, The Boy Who Cried Wolf, and David P. Mannix's classic novel, The Fox and the Hound.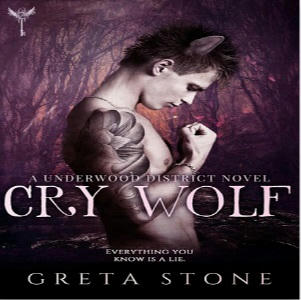 Excerpt!
The hunters broke the tree line like an army of shiny G.I. Joes, and halted. Surely, they'd spotted everyone by now. Well, everyone but Peter. Most of the hunters weren't keen on the idea of pressing forward. Of course, that was the downside to pack dynamics.
It didn't matter what the bottom of the pyramid wanted.
Standing a few paces in front of the other men, the lead hunter straightened to his full height, and pushed off his helmet. If his snow-white hair was any indication, he was pushing sixty, but everything about his body screamed that age hadn't done anything but hone his iron spine in fire.
Comfortable and alert, he didn't seem shocked at the fantastic display of aggression. If anything, he took his sweet time scanning the farm.
He took another step and called out, "Who's in charge here?"
Peter swallowed the lump in his throat. His heart thumped in his ears, and the time it took for him to close the distance to the fence seemed small, insignificant. Every fiber of muscle in his body drew tight from the rising onslaught of adrenaline, and he vaulted over the fence's beams and came to stand less than a yard from the lead huntsman.
The huntsman was even older than Peter initially thought, and built like a brick house, with wide shoulders and large, powerful arms. The brilliant white color of his short, neatly buzzed hair seemed natural, like whitened a long time before it should've.
"What do you want?"
He scratched at the stubble growing along his chin. "The hell am I supposed to say to a boy?"
One of the goons on the right laughed. "Ah, hell, Hal, we was just boys when we started."
"I'm a lot older than you think I am."
The huntsman's eyes were such a strange color, crow orbs ringed by the faintest rim of periwinkle. The kind of shiny, all-knowing eyes that seemed to absorb light rather than reflect it.
"You speak for them?"
"The bloodthirsty teenagers back there? Yeah, I guess you could say I speak for them."
"Call them off. We ain't here to hurt children. We're looking for a wolf."
Peter pointed into the forest. "It's crawling with wolves."
The air vibrated with disapproval. "I'm looking for a specific werewolf."
Peter shrugged. "Can't help you."
"Are there any werewolves on this farm?"
The sight of Hal leering in the direction of his home curdled Peter's blood. His grip tightened around the broom. "The wolves on this farm are children. They're not the wolf you're looking for, so you have no reason to be here."
"This wolf I'm looking for has a black coat, a gray undercoat, and silver eyes. Are you sure it couldn't be hiding on your farm?"
"There's thirty different types of monsters on that farm, and every single one of them is nosy.
Nothing sneaks onto our farm. Nothing hides on our farm."
"Are you sure? We heard a howl coming from this direction earlier this morning. We didn't come here to hurt any children, but I would hate for any of them to go missing."
Was that a threat or a warning?
Something moving in the forest caught Peter's eye, and he squinted past Hal, into the thick pockets of mist rolling across the landscape. The cramped trees created entire voids of darkness, and on the far right of what he knew to be a large oak, a pair of glowing silver eyes winked to life.
He blinked, and the eyes were gone. Vanished.
He didn't have time to wonder whether he'd imagined it. Any deviation from his story would result in a loss of credibility, and he didn't need to give them a reason to doubt.
The rifle resting against Hal's chest was a powerful, well-oiled piece of machinery. All it would take is one round, and Peter would bleed out long before he healed.
"What were you gonna say, boy?
"You"—Peter swallowed hard—"need to leave."
Hal lifted his chin. "What about the howl?"
What howl? Peter did the first thing that came to mind—he howled.
His lungs expanded, the sound proud, deep. Nearly a perfect imitation of a feral werewolf.
It was so real that a few of the men standing at Hal's rear shuffled back, their heads swivelling around, their guns raised in case the source of the sound was coming from somewhere else.
When Peter's chest started burning, he growled a finish.
"See?" he snapped. "No wolf."

About Greta!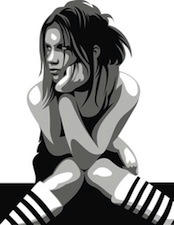 Greta is the unruly offspring of a tiger and a dragon. She spends most of her time reading, stalking her favorite musicians, and harassing other authors with pranks.
Underwood District Series (MM Romance/UF)
Cry Wolf – Book 1
Cry Wolf: Mating Season – Book 1.5
Take a Tour of New Gotham: www.brimstonepub.com
Sign up for GRETA STONE'S MAILING LIST and receive access to a bonus adventure featuring Peter and Luca.(Their fates might be changed forever.)
Copy and paste to join my newsletter: tinyurl.com/l99rh6m
Website | Twitter | Facebook | Goodreads | Facebook Author Page | Pinterest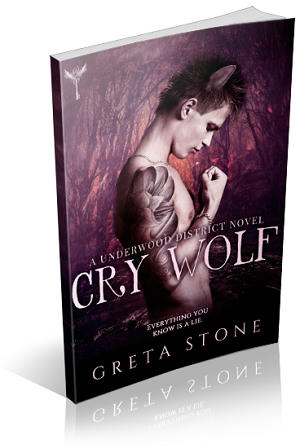 Giveaway!
• Kistune Gatestone Necklace
• $25 Amazon Gift Card
• 5x "Character" Signed Print Copies of Cry Wolf
• 10x Elderstone Keys
(Just click the link below)
Giveaway note from author:
Take a trip to New Gotham!
A paid vacation to New Gotham is an expensive affair. I found a witch who specializes in crafting gatestones. These magical pendants are used for traveling between dimensions. The bauble offered as a contest prize should take the winner to Avaline's Trees. Keep in mind, gatestones are touchy things. It might not do anything at all. Or you might up in oblivion. Good luck with that. We'll read about it in the papers, no doubt.
Elderstone Keys – What's the big deal?
There is a house in New Gotham that is rumored to be haunted. No one has lived in it since the Great Depression, and no one can recall what its last occupants looked like, what they did for a living or where they went. Only one is fated to enter and learn its secrets. Anytime I host a contest, I give away keys to Elderstone. The person who collects ten of them is fated to own the house. Among their keys, they'll have the mystical key that opens the door. (More information)