Hi peeps! We have Andria Large stopping by today with her upcoming re-release From War to Forever, we have a brilliant guest post and a great excerpt, so check out the post and enjoy! ❤ ~Pixie~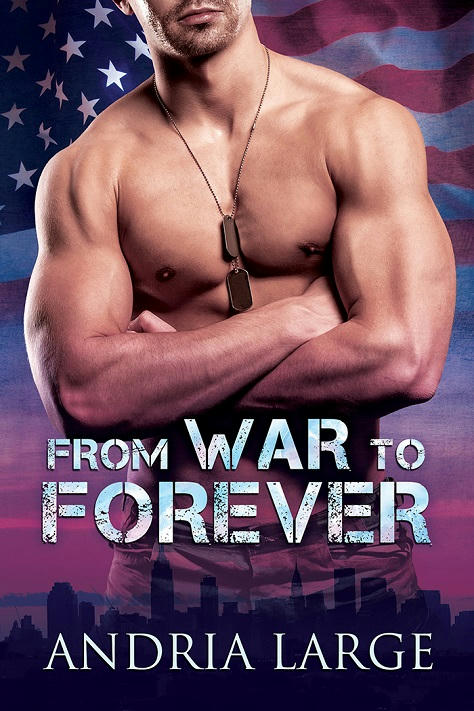 From War to Forever
by
Andria Large
Dennis
The love of my life is dead. Is there a reason to live anymore?
I'm a veteran Marine. Terrorists took not only my foot, but also my wife. Recurrent nightmares, a dead-end job, and a painful limp are all I have left. My best friend, Tucker, and my sister, Lizette, keep me afloat. I wouldn't be here if it weren't for Tucker… literally. And then, out of nowhere, there are these feelings. The kind I haven't felt in years. The kind I'm not sure I can handle, or even want to. But they've started wrapping around my broken heart, trying to mend it. Only they are not for a woman, but for the man suddenly sharing my bed. I'm not so sure I'm ready to give love another go.
Tucker
The war took my hearing, but I'm alive. Many of my friends are not. I am building a life with my best friend, Dennis. We have become practically inseparable. And now, we are more than friends. I've never had feelings like these for a man. My parents, my brother, my buddy, Duke—will they understand how I feel about Dennis? Can I risk losing my family?
First Edition published as At War by KDP Select, 2015.
Release date: 24th April 2017

Andria Large!
Hi Everyone! I'm Andria Large and I'm super excited for my first ever traditionally published book to be released! From War To Forever actually started out as a trilogy that I self-published. By some lucky twist of fate, Dreamspinner picked it up, we reworked it into one book, and are now republishing it with a new title.
This story gives you everything from dark and broody to smart ass and funny. The main characters, Dennis and Tucker, are two of my most favorite characters that I've ever written. They hold a special place in my heart and I'm so glad that more readers are going to have the chance to get to know them.
This was one of those stories that was just screaming at me to be written. Dennis and Tucker started off as secondary characters in one of my other series, Renegade, but as they became more developed, the more they demanded that I write their story. I know it sounds crazy, but I'll bet any author you talk to will tell you the same thing: Their characters talk to them and tell them what to do. I have a mug that says 'Writers block: When your imaginary friends won't talk to you.' Let me tell you, that's very accurate. The words stop flowing when the characters in your head stop talking and bossing you around.  
I have to tell you, I wasn't always into MM. There was a time where it didn't appeal to me at all. I know, shame on me. But then, as I was searching for a new book to read, I kept coming across this one in particular. The cover caught my eye because I was so used to seeing half naked men and women, but this one was a white background with a knife on it and the title, Cut & Run. I read the blurb and was immediately intrigued, but I was like, "It's two guys, not really my thing, let me see what else there is." So some time passed and I saw it again. I read the blurb again and I said to myself, "Self, this sounds really interesting and I think you should try it." Well, I did. There was no turning back after that. I was hooked. The Cut & Run Series by Abigail Roux was my first ever MM series and will forever be my favorite series of all time. I went on to dabble in writing MM in my first series, The Beck Brothers, which is about four brothers with each one having their own book. The first three are straight, but the last one is MM. I've written four more MM novels and two novellas since then and only have plans for more.
~~~
I want to thank MM Good Book Reviews for having me here today! Please check out From War To Forever! Don't forget to like and follow my Facebook page for updates on what is going on in the world of Andria Large!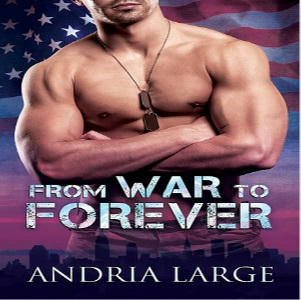 Excerpt!
Tucker
I wait up for Dennis in hopes I can talk to him about Arianna. He walks in the door at 2:15 a.m., looking tired. He gives me a nod, then yanks off his shirt. He rolls his sinewy shoulders and stretches his neck from side to side. His chest exes as he moves. My gaze slithers down to his abs, which bunch and relax under his lightly tanned skin. I literally have to force myself to stop staring at his body, which… is so not usual for me. What's gotten into me? I lift my eyes to his face and wait for him to look at me. When he does, I ask him how his night was.
"Some stupid asshole spit on me," he says, his lip curling in disgust as he tosses his shirt toward the hallway.
He heads for the kitchen, and I get up to follow him. I lean against the island counter as he goes into the fridge and grabs a bottle of water. He cracks it open and tilts his head back as he guzzles half. My attention is inexplicably drawn to his throat, watching his Adam's apple bob as he swallows. What the fuck is going on? Why do I have the urge to go over there and drag my tongue over the long line of his exposed throat? I have never been attracted to a man in my life. So why am I having this reaction to Dennis?
Dennis nishes the bottle and wipes his mouth with the back of his hand. I can tell he's in a shit mood, and I probably shouldn't bring up Arianna, but I don't know when there will be a good time to bring her up. I doubt he's going to want to hear it, whether he's in a decent mood or not.
"So, I've been thinking…."
"That's never a good thing," he teases dryly.
I give him a bored look. "Annnyway, since the threesome is out, why not give Arianna another shot? Maybe if you date her for a while, you'll start to feel something for her."
I can't decipher the look Dennis gives me. He's silent for a few seconds before he finally shakes his head. "I don't think that's a good idea."
I frown. "Why not?"
Dennis's gaze turns tortured, and it tears my heart apart. "I'm gonna grab a quick shower and head to bed," he says, without any explanation why he doesn't want to try to make things work with Arianna.
"Denny…"
He shakes his head again as he passes me and closes himself in the bathroom.
Figuring I better not push it, I go to my room and climb into bed. I really need to think of a way to help him. I know he wants to move on, but he's just stuck. I hate seeing him like this. Another woman is obviously not going to be the answer. The only thing I can think of is to give him support and comfort. Screw this. He shouldn't be alone after he came home feeling so down. Tossing my covers aside, I get up and go into Dennis's room. I snuggle under his blanket and wait for him to get done in the shower.
Dennis
When I walk into my room, I'm surprised to see Tucker curled up in my bed, his dark hair standing out against the white backdrop of the pillowcase. My heart does a little, excited ip for some reason. He always looks so handsome when his hair's a mess. I frown to myself. Since when do I have thoughts about how handsome Tucker is?
I grab a pair of briefs from my dresser before going over to my side of the bed. Tossing my towel on top of my dirty pile of clothes on the floor, I sit my naked ass down on the edge of the bed.
"Thanks for the show, Denny," Tucker murmurs, and I can hear the smile in his tone. Glancing over my shoulder at him, I send him a wink, making him huff out a laugh.
I put on my briefs, then take off my prosthetic. I turn off the lamp and lie down next to Tucker. Getting comfortable on my back, I close my eyes with a weary sigh. I'm fucking exhausted. Tucker shifts next to me, and I jump a little bit when he slings his arm across my chest and nuzzles his nose against my cheek. Contentment and peace wash over me. What is it about Tucker that makes me feel this way when he's near me? I mean, I love him because he's my best friend, so maybe that's why? I place my hand on his arm, holding on to the one constant thing in my life right now. He never fails to be there for me when I need him. He means so much to me.
When I turn my face toward his, my heart leaps into my throat when our lips accidentally brush. Tucker's eyes fly open as he sucks in a sharp breath. Those blue orbs stare into mine, but he doesn't back away like I expect him to. My blood is pounding through my veins. I haven't felt this kind of excitement since the first time I kissed Zara.
I close my eyes and lean into him, pressing my lips firmly against his, and Tucker kisses me back. I gasp at the thrill that shoots through me from such a little touch. Fuck. It feels so good to be kissed. Let me rephrase that. It feels so good to be kissed by someone I care deeply about. Arianna kissed me and I didn't feel a thing. I'm guessing because I felt nothing for her. But this is Tucker, the guy who knows everything about me and then some.
His lips are warm and firm, so unlike a woman's lips. A strong hand clamps down on the back of my neck, and my heart utters madly. I force my tongue past his lips, and a surge of raw lust careens through me. I moan into his mouth as our tongues tangle and twist around each other. His fingers tighten on my neck. The kiss turns fierce and possessive. Our teeth bump a few times, but I don't give a shit, and I don't think Tucker does either. I've never experienced a kiss like this in my life. It's savage and raw and needy. I don't ever want it to end.
Tucker wraps his arms around me, and his fingers dig into the muscles of my back as he tries to pull me closer. That's when I realize my hard-on is pressed against his. Tearing myself away from him, I roll onto my back, chest heaving as I try to catch my breath. Holy shit, did I really kiss another man?
"Holy shit," Tucker pants.
I look over at him, blinking like a kid who got caught eating the last piece of cake. "I… I don't know what came over me," I admit. "I'm sorry."
"Hey, don't apologize. It's okay," he soothes, placing his hand over my thundering heart.
I swallow hard and nod. Oh God, I hope I didn't fuck things up between us. Tucker kissed me back, but it was probably a reaction to being kissed first. "Let's forget that happened and go to sleep, okay?"
He frowns. "Sure."

About Andria!
Andria Large is a traditionally published and self-published contemporary romance author. She doesn't always follow the rules, so you will find both M/F and M/M books mixed into some of her series.
Henry from the Beck Brothers Series was the first book she self-published. Not expecting anything to really come of it, she was shocked to find the book caught wind and readers were asking for more. Writing books was not something she had set out to do. She wrote stories for herself, as a hobby. Now that it has become her career, she wouldn't have it any other way.
Andria grew up in Philadelphia, but now lives in New Jersey with her two daughters and wonderfully supportive husband, who frequently accompanies her at signings. The events that she attends every year are one of her favorite things about being an author. She loves meeting and conversing with her readers, but also enjoys finding new ones.
Andria considers herself open and friendly, so feel free to send her a message if you have a question or just want to chat.
Website | Facebook | Twitter | Instagram | Amazon