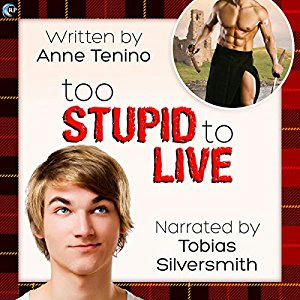 Title: Too Stupid To Live
Series:  Romancelandia 01
Author: Anne Tenino
Narrator: Tobias Silversmith
Genre: Contemporary
Length: 7 hrs 19 mins
Publisher: Riptide Publishing (25th March 2016)
Heat Level: Moderate
Heart Rating: ♥♥♥♥ 3.5 Hearts
Blurb: It isn't true love until someone gets hurt.
Sam's a new man. Yes, he's still too tall, too skinny, too dorky, too gay, and has that unfortunate addiction to romance novels, but he's wised up. His one true love is certainly still out there, but he knows now that real life is nothing like fiction. He's cultivated the necessary fortitude to say "no" to the next Mr. Wrong, no matter how hot, exciting, or erotic-novel-worthy he may be.
Until he meets Ian.
Ian's a new man. He's pain-free, has escaped the job he hated and the family who stifled him, and is now – possibly – ready to dip his toe into the sea of relationships. He's going to be cautious, though, maybe start with someone who knows the score and isn't looking for anything too complicated. Someone with experience and simple needs that largely revolve around the bedroom.
Until he meets Sam.
Sam's convinced that Ian is no one's Mr. Right. Ian's sure that Sam isn't his type. They can't both be wrong…can they?
Product Link: Audible US | Audible UK
Reviewer: Prime
Review: Too Stupid To Live is book 1 in Anne Tenino's Romancelandia series. The title of the book lends to main character, Sam, being an avid romance fan and can identify all the main characters by their stereotype. Sam just happens to identify with the "Too Stupid To Live" or "TSTL" personality – i.e. the quiet, nice guy who just lets the world pass him by until Mr Right comes along.
Sam wants to find his one and only love, though he has grown up mentally and is not a naïve boy. He is fairly sure he has the strength to say no to the next man that comes into his life who is not willing to make the same commitment as he is. But then at a friend's party he meets Ian. Ian is the cousin of Sam's friend. Ian's been in an accident but he too is ready to start over, which means it's time to open up to the possibility of a real relationship. These guys are still learning, despite their best efforts in the past. So their romance seems to stop and start every time they see each other. There is also a large bit of "it's not you, it's me".
The narration of this book by Tobias Silversmith is absolutely on point. His voice and tone conveyed Sam to perfection and did a pretty damn good job on Ian as well.
I really found this a difficult listen, even though I listen while on the train or doing my housework. The problem for me was that there were too many filler parts. The set up and execution of the plot lines is great, I love the start and I love the end. But there were just so many times where I sped up the audio so that I get to the next chapter faster. I really am loathed to skip chapters, no matter how tempting it is.