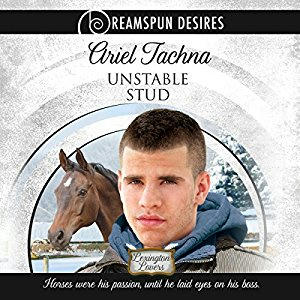 Title: Unstable Stud
Series: Dreamspun Desires 08 / Lexington Lovers 01 
Author: Ariel Tachna
Genre: Candy Sweet Contemporary Bromance 
Narrator: John Solo
Length: 4 hrs 48 mins
Publisher: Dreamspinner Press (29th April 2016)
Heat Level: Moderate
Heart Rating: ♥♥♥♥ 4 Hearts
Narration: ♥♥♥♥♥ 5 Hearts
Blurb: Horses were his passion, until he laid eyes on his boss.
Eighteen months ago, tragedy struck Bywater Farm when a riding accident killed Clay Hunter's lover and traumatized his prize horse, King of Hearts. Clay and King lingered in limbo, surviving but not really living, until a breath of fresh air in the form of Luke Davis, a new groom in the stud barn, revives them both.
When a fall from King's back sends Luke to the emergency room, Clay watches the shaky foundation of their budding relationship tumble down. Can Clay really love a jockey again, or will his fear of losing another man he loves keep them apart for good?
Product Link: Audible US | Audible UK
Reviewer: Gigi
Review: I always enjoy big hot studs and their trainers too. This book is full of cotton candy sweet romance. It's fun to see Luke's adventure into learning to gain a broken horses trust, and handle what other's had deemed a dangerous horse to the point of riding him. Learning to handle his owner could be just as trying.
There is a smidge of angst here, dealing with a lost love, a dead mother, and two souls daring to love, but it's mild. As far as the steamy scenes, it's very slow, and very timid, and oh so sweet. I actually think, though I feel SO very wrong for saying it, that the hottest scene was actually near the beginning, where Luke's imagination gets away with him when King is performing his stud service, and his new boss Clay is nearby. It's totally weird, strange, but oddly hot. Not quite sure why, but that scene stuck with me. I imagined Lay riding Luke in the arena after that, but alas, this is not a kinky story. 
This is a slow build to a sweet romance, of the untried virgin variety, but knowing that, if you're looking for a sweet love story then that's what Tachna delivers, beautifully narrated, with plenty of interesting characters.