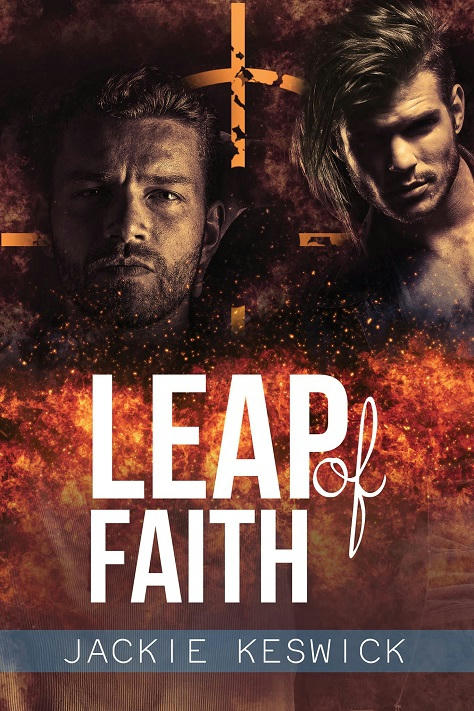 Title: Leap of Faith
Series:  FireWorks Security 01
Author:  Jackie Keswick
Genre: Contemporary, Mystery, Suspense
Length: Novella (125 Pages)
Publisher: Dreamspinner Press (April 5, 2017)
Heat Level: Low
Heart Rating: ♥♥♥♥ 4 Hearts
Blurb:  Close friends and partners at FireWorks Security, Joel Weston and Kieran Ross know each other's strengths and weaknesses. They have each other's backs, make a formidable team, and carefully ignore their volatile chemistry.
When Kieran struggles with the aftermath of an assignment gone wrong, Joel is there to help. When Joel is caught in an explosion, Kieran jumps into a burning marina to rescue the man who means so much to him. But they never discuss what's closest to their hearts, not prepared to risk their friendship for the mere possibility of something more.
Faced with bombs, assassins and old ghosts, Joel and Kieran must find out why they're targets, who is after them and—most of all—how each would feel if he lost the other. Can they continue as best friends, or is it time to take a leap of faith?
ISBN: 978-1-63533-409-8
Product Link: https://www.dreamspinnerpress.com/books/leap-of-faith-by-jackie-keswick-8348-b
Reviewer: Lisa
Review:  Jackie Keswick is a new author for me, and I usually don't pick new authors for the reason of having no clue what their writing is going to be like.  Over the years I have come to have many authors that I have loved and have been known to be pretty picky on what I read.  Now I will say that if I was just choosing a book by its cover, then this would have been the last book I picked up.  The cover is just down right creepy to me, however that is just me.  The title didn't really do it for me either, but I will tell you that the name of the series was what caught me enough to take a look at the blurb.  It was the attraction of danger that really made me want to give it a look.
Now here you have to very sexy men who so have the hots for each other, and avoid the temptation of giving in.  However there are several factors that prove to be these two sexy men's undoing.  Explosions, fires, bombs, danger, and hot lust well you get the picture.  Now I have never really been a fan of friends to lover's romance, but this one makes it a bit hard to ignore.  The chemistry these two have is off the charts.  To top it off it is a mystery and suspense that has me taking a major look at it.  
Joel and Kieran have been friends from the first day he started working.  Now these guys go in and save the day for many, such as rescuing those who are being held hostage or have been kidnapped.  For them they just hit it off, but had not given in to the fire burning inside of them for each other.  Now if you really want to know the juicy details of these two, well pick up this book.
Now I do admit that the characters were hot, but really didn't catch me as they should have though.  It is more of a telling type of story and not a lot of showing, which did suck for me.  I couldn't see them in my head to really get a good feel for them though. The sex was minimal in the story, and the first book is more about the details of what this company is about and so forth.  It also felt like the author did throw in certain parts to keep the attention of the reader, and that is not always a good thing.  Such as the fact that for a small story it has way to much going on and the actual romance was slow building.  What is with the mirrors, well if you read you will see why I asked the question, just a different type of kink.  Parts of the story go at a pretty good pace, and then there are others where it slows down too much for me. 
The ending also needed some work to it, let's just say it just stops and leaves you with questions.  Other than my issues with the story, I still enjoyed it quite a bit.  Just needs a bit of extra tender care to make it a higher rocking book for me.