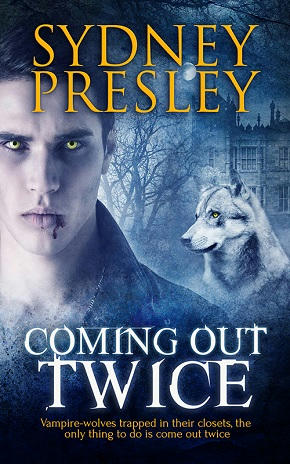 Title: Coming Out Twice
Author: Sydney Presley
Genre: Thrillers, Suspense, Paranormal
Length: Novella (68 pages)
Publisher: Pride Publishing (February 21, 2017)
Heat Level: Moderate
Heart Rating: ♥♥♥♥♥ 5 Hearts
Blurb: Trapped in their closets, the only thing to do is come out twice.
Salford and Ruby, vampire-wolves, have been born into The Clan, into the Level where killing is expected. Hating their jobs eliminating humans who have discovered vampire-wolves exist, they long for better times, where bloodshed isn't the order of the day. But that isn't about to happen any time soon—not while Albert, one of The Clan's twelve Leaders, oversees everything they do.
Ruby, a cross-dresser, has spent many of his previous centuries trapped in the closet. Lately, though, he's been able to wear what he wants and can express his love for Salford in public. Knowing how freeing that has been, he wishes The Clan laws were different and that he and Salford didn't have to kill, freeing them from that dreadful closet, too. But it would take a strong person to ask The Clan to consider a vote that would allow Ruby and Salford to be exempt from having to kill, and Ruby isn't sure he's the right man for the job.
With a London gang discovering vampire-wolves exist, and Salford having dreams that tell him what they must face next, Salford and Ruby must eliminate the men who are after them. But someone else is also a danger—someone closer to home. Someone who should have vampire-wolves' best interests at heart, but doesn't…
ISBN: 978-1-78651-540-7
Product Link: https://www.pride-publishing.com/book/coming-out-twice
Reviewer: Shorty 
Review: Unique and highly entertaining. Ruby and Salford couldn't be more different tha night and day. Ruby loves to dress up in heels and pretty dresses and has a great personality. Salford is more reserved but serious and thoughtful. I loved the fact that they were both vampire and wolf which was rare. 
Not all approved of them and their relationship. Amid trying to lay low they have to work for The Clan by killing others that threaten their existence. But both Ruby and Salford do not want to do it anymore. They set out to find a way out of it. What they discover is a sinister plot that puts Ruby's life in danger from someone who should have been watching their backs. 
I loved everything about story. It intriguing, mysterious at times and action packed at others. The whole story was well written and flows smoothly as you immerse yourself into a power struggle of epic proportions. 
Highly recommended.