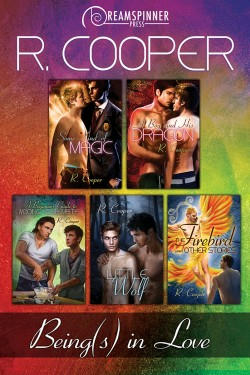 Title: Being(s) in Love Bundle
Series: Being(s) in Love Books 1 – 5
Author: R. Cooper
Genre: Urban Fantasy, Paranormal
Length: Novel (914 pages)
Publisher: Dreamspinner Press (October 14, 2016)
Heat Level: Moderate
Heart Rating: ♥♥♥ 3 Hearts
Blurb: Beings fall in love, too.
In a world where magical creatures came out of the closet after the First World War, romance still pops up in unexpected places. Police detective and werewolf Ray Branigan will have to overcome his own prejudices to find a happy ending, in Some Kind of Magic. Dragon and historian Philbert Jones has a challenge to face in A Boy and His Dragon—convincing Arthur MacArthur that his worthy of being a dragon's treasure. In A Beginner's Guide to Wooing Your Mate, Zeki Janowitz, wizard, and Theo Greenleaf, werewolf, have a second chance at a relationship, if they can learn what love's really about. Tim Dirus is on the run from his own kind, in Little Wolf, but werewolf and local sheriff Nathaniel Neri is determined to teach him that it's not all about how alpha you are. And in The Firebird and Other Stories, R. Cooper takes us from the turn of the twentieth century to present day with stories that explore beings throughout history.
ISBN-13: 978-1-63477-629-5
Product Link: https://www.dreamspinnerpress.com/books/beings-in-love-by-r-cooper-7633-b
Reviewer: Shorty 
Review: I really wanted to love this bundle. But alas I was unable to enjoy it as much as I normally would. Each story had great plot ideas but failed to keep the reading smooth. I was unsure whether this was done deliberately or not. At times I found myself annoyed at some weird sentence phrasings. 
I feel each main character of the stories should have had background stories, yet some did not. As a result I was disappointed. But aside from those things it was a good read with great ideas to expand on or go through and eliminate some things while adding others.
This bundle is a total of five stories in the series that have werewolves, fairies, dragons, wizards, humans, imps, firebirds and quite a few others are in these stories as they all struggle to survive and to find the one they are meant to be with for all time while overcoming prejudices and danger. Dramatic and entertaining to a point this bundle has it all.
Good read.