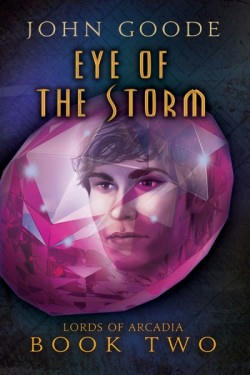 Title: Eye of the Storm
Series:  Lords of Arcadia # 2
Author: John Goode 
Genre: High Fantasy, Teen Fiction, Werewolves, Shapeshifters
Length: Novel (212 pages)
Publisher: Dreamspinner Press (October 1, 2012)
Heat Level: Low
Heart Rating: ♥♥♥♥♥ 5 Hearts
Blurb: Kane Vess thought his life in rural Iowa was mind-numbingly boring. Then Hawk, a prince from another world, appeared and turned Kane's life upside-down. At first Kane welcomed the adventure and the chance to be with Hawk—but then a shapeshifter named Puck kidnapped Hawk and dragged him back home.
Now Kane is caught up in another planet's magical civil war, searching for the boy he loves in a place he knows nothing about. With the help of a gem elemental, an ice barbarian, and a clockwork woman, Kane has to find Hawk and stop Puck before he can destroy the nine realms.
ISBN-13: 978-1-62380-055-0
Product Link: Dreamspinner Press | Harmony Ink Press
Reviewer: Shorty 
Review: This series is an epic tale of Kane and Hawk, two boys drawn together in the fight of their lives. In this continuation Kane will stop at nothing getting Hawk back. It's a gruelling and intense journey fraught with allies and a deceitful puck who has insinuated himself in royal household for reasons of his own: power. He causes a deadly uprising with the dark against the royals. He schemes and manipulates anyone to achieve his goal even at the cost of his own. 
Kane travels to where Hawk is being held by three sisters who feed on blood. But the connection between Hawk and Kane is powerful yet not without a lot of pain being felt by both of them. They gain allies in the form of two dark assassins, Ator and Pullus who were the ones that originally kidnapped Hawk in the first place. 
So much more happens in this awe inspiring story with twists and turns that left me on the edge of my seat wondering what would happen. Simply put an amazing journey with exceptional realms and all sorts of beings with a plot that is fantastic. I loved the entire book and cannot wait to read more.
Highly recommended.