Hiya peeps, we have S.J. Himes and her new audio release The Necromancer's Dance, we have a great excerpt, an exclusive excerpt and an audio sample so check out the post and enjoy! ❤ ~Pixie~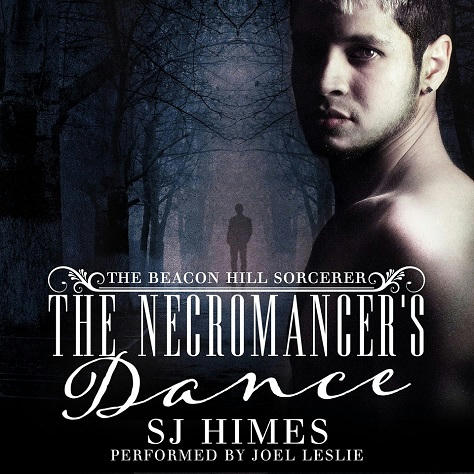 The Necromancer's Dance
(The Beacon Hill Sorcerer 01)
by
S.J. Himes
In a world where magic is real and evil walks amongst humanity, a young sorcerer is beset upon by enemies, both old and new. Angelus Salvatore is the only necromancer in all of Boston, and his name is whispered warily by the undead and fellow sorcerers alike. He and his brother Isaac are the lone survivors of an attack by an army of the undead, in which Angel used a spell so powerful it forever marked his place in history. Now, years later, Angel struggles to balance his career as a teacher of the higher magical arts, his role as big brother, and a tenuous relationship with an Elder vampire from the local clan. When his brother's boyfriend is used as a pawn in a mysterious plot to draw Angel out, Angel is once again drawn back into the old hostilities that fueled the Blood Wars and led to his family's death.
Leaning on others for help is something Angel cannot do, and while he searches for clues into who may be targeting him and his brother, Angel finds his heart steadily growing occupied with Simeon, Elder and vampire. Dealing with death magic and vampires on a daily basis may leave Angel jaded when it comes to life and staying that way, but the more time he spends fending off the ancient vampire's attention and affections, the more he realizes he wants to give in.
Can Angel find out who wants him dead, and keep his heart safe in the process? How can he fall for a vampire, when his whole family was torn apart by an army of the undead?
Death stalks the streets of Boston's historic Beacon Hill….and there is no one more suited to battle against death than a necromancer.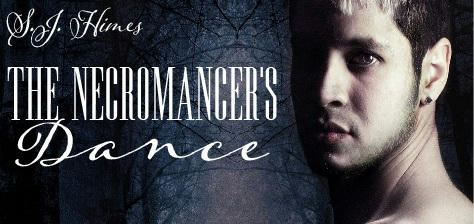 Excerpt!
Angel was ranked as a sorcerer. The unfathomable infinite maelstrom of magic that gathered beyond this world in a brilliant sea of light and shadows, swirling and singing… Angel could use it. He was able reach out, through the veil, and touch the infinite. And even within the three tiers of magic users, witch, wizard, and sorcerer, there were rankings. All based on the personal strength of their individual abilities, and their affinities.
Angel's affinity was for death, and he was a necromancer.
Not just death in its literal meaning; but all that lead to death and dying, and everything touched by mortality. Spirits, ghosts, poltergeists, all kinds of undead, the dying, illness, disease, poisons, and mortal injuries, and a whole mess of really nasty creatures and conditions. Anything on the other side of the veil and anything rushing towards death was within Angel's affinity, in reach of his talents. Angel got along great with demons and vampires, when they weren't trying to kill him. Nothing makes a vamp more nervous than a necromancer. The smart ones, at least.
Exclusive Excerpt!
A sigh, a sliding susurration of hissing air…. and Angel knew that sound. Like blood dripping from a body, Angel would never forget the sound of a hunting vampire. It was the kind of sound that made prey break cover and run, only to get caught in the open and eaten. Another hiss and a mocking chuckle drifted up the stairs, and Angel could hear the taunting challenge in the rasping laugh.
"Do you dare, Angelus?" Words spun out from the hiss, barely decipherable, and Angel tensed as understanding flooded him.
He was being taunted. A person was dead and laid out like a tossed gauntlet, and the monster on his stairs was laughing. It was still daylight, though the light was waning, but it was dark in the staircase, no sunlight whatsoever. It must have snuck in through the back alley, a narrow strip of cement that never got any sunlight, the shadows deep enough to provide cover. A car parked at the mouth of the alley would be under cover of deep shade as well.
Vowing to have skylights put into the stairwell ceiling as soon as possible, Angel held his ground as the monster's words finally sank in.
"Do you dare? Come face me, necromancer."
About S.J.
I'm a self-employed writer who stresses out about the silliest things, like whether or not I got my dog the best kind of snack and the fact my kindle battery tends to die when I'm at the best part in a book. I write mainly gay romance, erotica, and urban fantasy, with ocasional forays into contemporary and paranormal. I love a book heavy on plot and character evolution, and throw in some magic, and that's perfection. My current series are: The Beacon Hill Sorcerer, Bred For Love (as Revella Hawthorne), and The Wolfkin Saga. My last two novels in the Beacon Hill Sorcerer won 3rd Place in the Gay Fantasy category for the 2016 Rainbow Awards.
I live in New Orleans, where the personalities are big and loud and so are the bugs! New Orleans is rich in cultural history, and the flavor and music of the City is impossible to hide. Before that, I lived all over the United States: Tampa, Western Massachusetts, Indianapolis, and on and on…. I'm a nomad, and I've yet to find a place that calls to me strongly enough to become home. My faithful travel companions are my dog Micah, the numerous voices in my head who insist they all get put on paper, and the wind at my back.
Links: Website | Blog | Facebook | Facebook Fan Group | Twitter | Amazon