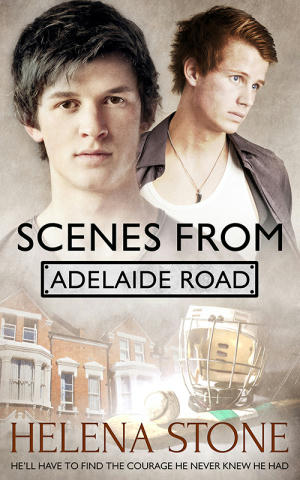 Title: Scenes from Adelaide Road
Author: Helena Stone
Genre: Contemporary
Length: Novella (164 pages)
Publisher: Pride Publishing (1 Dec 2015)
Heat Level: Moderate
Heart Rating: ♥♥♥♥ 4 Hearts
Blurb: Can a young man find the courage he never knew he had when faced with losing everything he holds dear?
A few months before his final exams in secondary school, nineteen-year-old Lennart Kelly discovers he's inherited a house on Adelaide Road in Dublin from a grandfather he never knew. Having been ignored, bullied and abused for as long as he can remember, Lennart can't wait to leave behind his father and the small town he grew up in. Moving away as soon as he finishes his exams doesn't cure his deep-rooted insecurities though.
Meeting twenty-three-year-old Aidan Cassidy in a gay club on his second night in Dublin, scares Lennart. Used to being ignored and ridiculed, he doesn't trust the attention he receives and can't believe a man like Aidan could possibly be interested in him. It takes infinite patience and understanding from Aidan to slowly coax Lennart out of his shell.
But the past refuses to stay where it belongs and Lennart's father is determined to take the house in Dublin off his son by whatever means necessary. Just when Lennart is learning to trust and embrace life, a violent attack threatens everything he holds dear. Suddenly Lennart is in danger of losing his house, the man he's grown to love and maybe even his life. If Lennart wants to protect Aidan and safeguard his future, he'll have to find the courage he never knew he had.
ISBN: 978-1-78430-867-4
Product Link: https://www.pride-publishing.com/book/scenes-from-adelaide-road
Reviewer: Prime
Review: I have to admit, I was a little shallow when it came to actually choosing to read this book – I chose it because I live in Adelaide and if I can't read about my own city I can at least read about a road that goes by the same name in Dublin. That aside, Scenes from Adelaide Road is a fantastic book that is really a coming of age for a couple of Irish lads who are trying to break free from their pasts and make their way in the world.
Lennart is from the West Country and moves to Dublin after finding out that he inherited a house from a grandfather he had never known was alive. He grows up the victim of bullies and no matter how much he tried to blend in, he was always a target. With only his father left to raise him, the man makes no effort to hide the fact that he hates his own son and expects Lennart to fail at everything. After only a couple days in Dublin, Lennart plucks up the courage to go to a gay bar where he meets Aidan. Aidan's upbringing has been completely opposite. While he has been the victim of some bullying he has a loving and supporting family who would do anything for them.
Out of home and living together in Lennart's inherited house, there is an element of self discovery. In addition to learning about each other and exploring a relationship, they also learn about the grandfather that Lennart had never been able to meet because of his selfish and horrible father. In some ways Lennart's grandfather is the heart of the story and the heart of the drama, because Lennart's father comes back in his life in a really horrible way. I love the attraction between the guys and the development of the characters, especially Lennart who learns to stand up for himself.
This is the type of story that appeals to many types. Although, almost in the realm of young adult it does not feel like one, instead this more about breaking free of the horrors of bullying and learning to stand up for yourself. Lennart is a strong character that I think is universally relatable and very appealing despite being so broken.