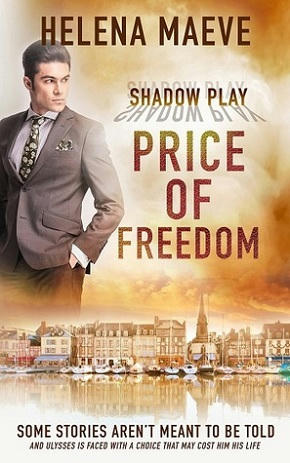 Title: Price of Freedom
Series:  Shadow Play # 2
Author: Helena Maeve
Genre: Contemporary, Erotic, Romance, Thrillers and Suspense
Length: Novella (102 pages)
Publisher: Pride Publishing (November 10, 2015)
Heat Level: Moderate
Heart Rating: ♥♥♥ 3 Hearts
Blurb: Some stories just aren't meant to be told.
From warzones to domestic scandals, Ulysses has built a career as a high-profile journalist at the expense of both family and relationships. Now his dogged pursuit of the truth has cost him credibility and job security. Discredited and depressed, he hunts for the story that will re-establish him as a trustworthy name in British journalism.
Stumbling across a string of mysterious murders that spans the breadth of the continent may prove a godsend. Yet catapulted into a world of spies and outstanding blood debts, Ulysses finds himself collaborating with elusive Robin, a man on the run whose past is as dark as the desires he awakens in Ulysses. Their chemistry is incendiary, breathtaking, unlike anything Ulysses has ever known. And chances are the fallout will prove proportional.
As Robin's dealings land him in the crosshairs of the British intelligence services, Ulysses is faced with a choice that may cost him his life. .
ISBN: 978-1-78430-843-8
Reviewer: Shorty
Product Link:  https://www.pride-publishing.com/book/price-of-freedom
Review: This is book two in the Shadow play series. Ulysses, journalist, was a very ambitious man. He wanted the top story and did what it took to get it until he was discredited. Robin a man with a dark past corroborates with Ulysses to find out the truth about some murders. Which puts both men's lives in danger.
I really liked the mystery part of the story. The way Ulysses sought out facts was fascinating. But I have t say I was intrigued by the mysterious yet sexy Robin. As more details about his past are revealed I was wondering how they would make it out alive. 
I liked the story though I felt it was a little drawn out.