Hi guys, we have Bru Baker popping in today with her upcoming release Tall, Dark, and Deported, we have a fantastic guest post and a great excerpt so check out the post and enjoy! ❤ ~Pixie~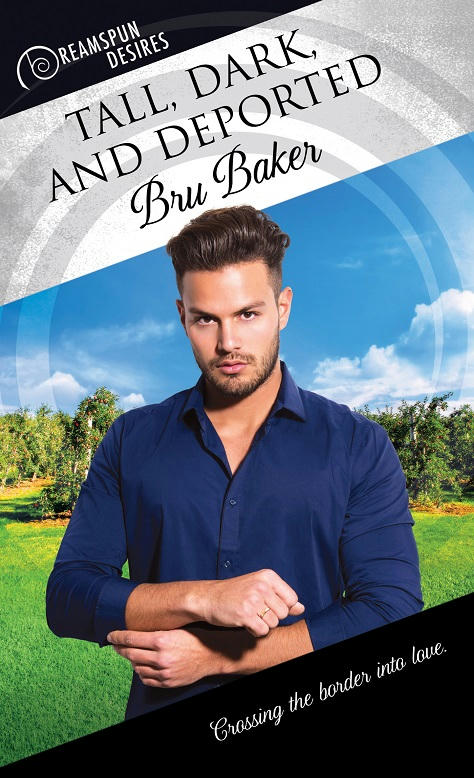 Tall, Dark, and Deported
by
Bru Baker
Crossing the border into love.
Snap decisions and misguided ideas bring Portuguese national Mateus Fontes and businessman Crawford Hargrave together at the Canadian border crossing.
Mateus is caught in a catch-22. With his almost-expired tourist visa, entrance to Canada is denied, but the US won't let him back in either. Crawford thinks he's solved things when he tells the border agent they're engaged, and it works—except now they have to actually get married before either of them can get back into the United States. But Crawford has been burned by marriage once, and he's determined not to make that mistake again.
Neither of them expects real feelings to bloom out of their fake marriage, but they do. And the two of them have to learn how to be honest with each other to make things work, which is especially hard when their entire marriage is based on lies.
Release date: 1st April 2017

Category romance primer with Bru Baker!
I'm kicking off my release tour for Tall, Dark, and Deported today, and I can't thank MM Good Book Reviews enough for hosting me.
I've adored every book I've read in the Dreamspun Desires line, and I'm geeking out a bit over being Book 31 in the series. There's just something undeniably satisfying about a category romance, don't you think? A guaranteed happy ending, contrived situations, tropes galore, gorgeous and quirky men—what's not to like? It's what has made me an avid reader of the Dreamspun Desires line and what drew me to write one of my own.
I've always gravitated toward writing relatable, flawed characters that you'd want to sit down and have a beer or a piece of cheesecake with, and those are exactly the kinds of characters that make for a great category romance. It can be a challenge to make a character come alive in a shorter novel, which is why so many of our category romance heroes have strong personalities. It helps readers get to know them in short order (and hopefully fall in love with them!), and it makes for some interesting twists on the way to their HEA.
I'll be on Open Skye Book Reviews introducing Crawford and Mateus on March 30, and don't miss the exclusive excerpt about their first impressions of each other that will be featured on My Fiction Nook on March 31. But before we get to know them individually, let's get to know them as tropes so we can see why they complement each other so well.
Opposites attract
This is probably the most popular—and delicious!—category romance trope. Sparks always fly when two people who have different views on life come together. Crawford is a workaholic divorcée who cloaks himself in cynicism to protect his still-healing heart. And Mateus is about as opposite as can be. He wears his heart on his sleeve and approaches every situation with optimism and humor.
Devotion to family
One thing most category romances have in common is at least one character who has a strong bond to their family. The ferocity of this loyalty often causes trouble for our hero, but it also gives the reader some quick insight into how deeply the character can love and how selfless he can be. Case in point: Mateus is risking deportation to stay and help his brother and sister-in-law get their orchard up and running. And Crawford is no slouch, either. He lives in LA solely because it puts him close enough to help care for his nephew.
Damsel (or in this case, dude) in distress
Every good story has to have some friction, and in our beloved category romances, that usually takes the form one character rescuing the other. It can be subtle, like shows of support and friendship through tough times, or overt, like pulse-pounding rescue scenes or a hurt-comfort extravaganza (yes, please!).  Mateus is the dude in distress in Tall, Dark, and Deported, and Crawford quite dramatically comes to his rescue—saving him in the moment but landing them both in a world of potential trouble. Good intentions going wrong—that could be a category romance trope, too!
Gallant heroes
Some books have characters we love to hate. They're so bad, so flawed, that they're fascinating. But those bad-to-the-bones dudes don't get much play in category romance. To get that happy ending in less than 60,000 words we have to have a redeemable hero. He has to be able to make his journey from hard-hearted cynic (or closed-off cowboy, or rakish duke–I could go on and on, have I mentioned how much I adore category romance?) in a pretty compressed time line, which means he has problems or issues that can be fixed quickly. For Crawford, it's the same gallant streak that got him into the sticky situation. It's a lot of fun to watch him struggle against his moral code, especially knowing that he's making things needlessly complicated.
For me, taking a sprinkle of each of these tropes and putting them together makes for a comforting and fluffy category romance read. Sometimes that's exactly what I need after a hard day at work or an overdose on cable news shows.
Catch me over on Kimmers' Erotic Book Banter on March 29 where I'll be talking about how I'm committed to making Tall, Dark, and Deported a way to shine a light on the serious issue of immigrants' rights and how it's already doing good work.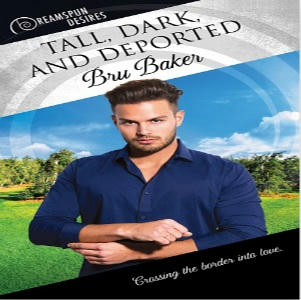 Excerpt!
"IT WASN'T a request, Crawford. Helena has booked you on a plane to Vancouver next week, and I expect you to be on it."
Crawford kept his features carefully blank, his gaze focused just over his boss's shoulder on the Warhol that hung behind him. It had been hideously expensive, especially given it was gracing the wall of a man who didn't even like art. Crawford had been the one sent to the auction to bid on it. George had claimed it was exactly the type of statement piece that belonged in the office of the chairman of a highly successful international boutique hotel chain.
Not that attending art auctions was technically part of his job. But lately, George had been expanding Crawford's job description more and more to justify sending him on ridiculous errands like flying across the country to attend an auction with the company's interior designer.
Crawford focused on the garish painting and prayed for patience. His pulse had been racing ever since George had announced, in front of the entire board, that Crawford would be heading up the audit of the company's flagship Canadian hotel. The announcement itself wasn't a surprise. The Vancouver property had been in a downward spiral for the past few quarters, the numbers not quite adding up and certainly not keeping pace with the gains in the company's other North American locations—nowhere close to the projections Crawford himself had been part of setting. And since Crawford was the company's top auditor and management consultant, he'd been expecting the assignment.
Given the size of the undertaking, it also wasn't that much of a surprise to hear that he'd be part of a team of auditors instead of going solo like he often did.
And if it had been one of the half-dozen North American consultants he'd worked with before, he would have been at his desk even now, poring over the reports to ready himself for the trip. But the CEO was bringing in Crawford's counterpart from the European office to collaborate, and that was a deal breaker. George knew exactly what he was asking by sending Crawford there. Hell, everyone at Chatham-Thompson knew why Crawford gave the European headquarters and all communication with his counterpart there a wide berth. It wasn't like Crawford and Davis had hidden their relationship. They'd been together three years. Half of the company's executives had come to their wedding, for Christ's sake.
Crawford grimaced, rubbing a hand over his jaw. One of the last civil things Davis had said to him was that he hoped there were no hard feelings about him taking the promotion that would move him halfway across the world. As if their marriage had meant nothing. As if their time together had just been Davis biding his time before climbing the next rung on the corporate ladder.
Needless to say, Crawford hadn't been quite so cordial about it. Following several disastrous conference calls, the other execs realized the importance of scheduling meetings with Crawford and Davis separately and had been careful to do so.
Until now.
"George, Edward has offered to oversee the audit," Crawford said. "And, respectfully, you really don't need both Davis and me on this. It makes much more sense to have a more junior auditor who's familiar with the property there to help Davis run the numbers and talk to the staff. He and I together would be overkill."
Crawford was proud of the way his voice didn't shake. His hands were the only part of him to break rank and tremble, but they were tightened into fists in his lap, hidden from view by George's enormous oak desk.
"Edward is perfectly capable," George agreed with a deceptive calm that always preceded his most unpopular edicts. Crawford's mentor was eerily good at reading people and pushing them past their comfort zones in the name of professional growth. His stomach sank. This smacked of George's special brand of meddling. "I'll be frank with you, Crawford. This is definitely something one of the junior members on your team could handle. The interviews and on-site data gathering, at least. But I thought this would be a chance for you to prove to the board that you are serious about your future here at Chatham-Thompson."
Crawford ground his teeth together. He'd been working for this company for more than half his life, starting as a desk clerk with all the other college grunts, graduating to the concierge desk at the biggest hotel in the chain within two years. Before long, he'd been promoted to the corporate offices, working grueling eighty-hour weeks while simultaneously getting his MBA. It had paid off too. He'd earned himself a vice presidency by the time he was thirty-four.
"I am serious about Chatham-Thompson. Don't be ridiculous," Crawford snapped.
Crawford had given his entire life to the company. Horrendously long workweeks, years where he'd let his vacation time slide by unclaimed because he was too busy building the company to take it—ironic, since he worked for the largest resort hotel chain in the world. He was the most dedicated employee in the executive offices after George. He just didn't see the need to force himself to work with his ex-husband to prove it.
"It's a done deal, Crawford," George said. "I know it's hard, but it's been three years. You need to get past it. I've indulged your feud for too long, and now it's starting to affect the bottom line. I can't let that happen." George stood to signify the end of the conversation. "Your flight has been scheduled. I'm assuming you'll stay on-property like you usually do?"
Crawford was too numb to do anything but nod in agreement. He'd been railroaded, and his chest felt like it had met the train head-on.
"Excellent. Helena will send all the details to your administrative assistant. We'll schedule a conference call once you've set up shop and done your preliminary survey."
George dropped his gaze to the tablet in front of him, an obvious dismissal. He'd said his piece, and even while Crawford's world was crumbling around him, George remained coolly unaware.
Crawford wanted to argue, to put his foot down and refuse, but he was afraid he'd lose that particular game of chicken. Would George really fire him over this? Was avoiding Davis really worth flushing his entire career down the toilet?
Not for the first time, Crawford wondered what his life would have been like if he'd never taken the first promotion that launched him into corporate. He'd been happy as a concierge, daydreaming about running his own hotel someday. Even now his favorite part of his job was getting out into the hotels and working with guests. He didn't get to do it too often anymore, and when he did, it was usually dealing with disgruntled customers who were staying at failing properties. But it was still miles better than sitting in a stuffy office looking at budget line items.
George looked up, his brow raised like he was surprised to see Crawford still in his office. "Are we clear?"
Crawford didn't even try for a smile as he stood to leave. "Crystal."

About Bru!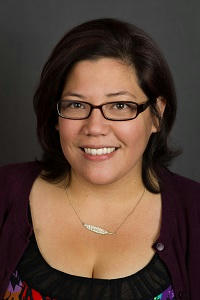 Bru Baker spent fifteen years writing for newspapers before making the jump to fiction. She now balances her time between writing and working at a Midwestern library in the reference department. Most evenings you can find her curled up with a mug of tea, some fuzzy socks, and a book or her laptop. Whether it's creating her own characters or getting caught up in someone else's, there's no denying that Bru is happiest when she's engrossed in a story. She and her husband have two children, which means a lot of her books get written from the sidelines of various sports practices.
Visit Bru online at www.bru-baker.com or follow her on Facebook or Twitter.