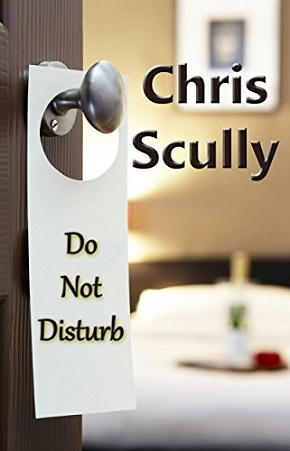 Title: Do Not Disturb
Author: Chris Scully
Genre: Gay Erotic Romance, Contemporary
Length: Novella (99pgs)
Publisher: Chris Scully
Heat level: Moderate
Heart Level: ♥♥♥♥ 4 Hearts
Blurb: Check-in for a night at the boutique Benton Hotel, where the motto is "we're not satisfied until you are", with this collection of three sweet and sexy short stories.
In Watch Me, a hotel clerk makes a surprising discovery about his colleague's personal life, and an even more unexpected discovery about himself when he borrows a uniform, while a married man looking to spice things up finds a night of passion when he meets a stranger in a hotel pub in Wedded. Finally, in Wanted, a young man exploring his sexuality gets more than he bargained for from his hook-up.
ASIN: B01NCROTM5
Product Link: https://www.amazon.com/Do-Not-Disturb-Stories-Romance-ebook/dp/B01NCROTM5
Reviewer: Veronica
Review: First time reading from this author, and I gotta say. I love these three short stories. The Hotel setting description is beautiful and it makes you think that you are there watching everything. With these short stories, there isn't much romance, but the sex scenes are hot and steamy.
In Watch Me, you have two hotel clerks, Win, works the late-night shift and is a CPA, and Lucas the flirt, works the shift before him and is always a popular with the staff and guest. Win is dealing with a stressful matter at home and doesn't know how to handle the situation and it's stressing him out.  Win's jacket has a coffee stain on it and Lucas is nice enough to loan him his. He finds a note in the pocket which leads to a website and he's shocked at what he sees. In this story, Win is attracted to Lucas but doesn't want to do anything about it, he is a jealous twit and can't get past all the rumors that he hears about Lucas.
In Wedded, there is Dave, who was told to be there for 8 o'clock, is sitting in the hotel's bar having a drink. He's been married for 25 years, but doesn't want to think about that or his husband. He'll suffer the consequences of this night tomorrow, he says. He takes off his married ring and feels that by taking it off, he doesn't appreciate the years that he had while the ring was on. He loves his husband, but can't discount that their married life lately has been boring, and he doesn't know what to do. He sees this handsome man in the hotel's bar, tall and broad shouldered. Dave is about to go on a clandestine meeting in one of the hotel's room. I was hoping for and got the twist that this story took. I loved it.
In Wanted: Evan is under a table hiding from a shootout in the Mall, where he literally saw his life flash before his eyes. Months later, he wants to tick some things off his bucket list, the biggest one is having sweaty sex with a man, and he makes sure that his anxiety attacks won't stop him. He puts up a notice on Craig's list for a hook-up, but the person that he meets is a shock for him. Graham, was expecting to meet his sister, not knowing that his sister set him up on a blind date. I love the interaction between Evan and Graham. I loved the way they talked with each other.  They're open and honest with each other. Graham tell his about his cancer, and having one of his testicles removed. Oh wow, I absolutely love the connection that these two have and was sorry that their story ended. This author did not disappoint and I would gladly recommend this story.