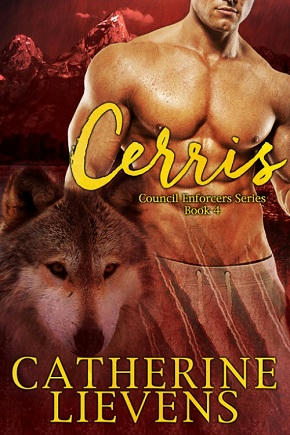 Title: Cerris
Series: Council Enforcers #4
Author: Catherine Lievens
Genre: Paranormal
Length:  Novella (122 Pages)
Publisher: eXtasy Books (February 24, 2017)
Heat Level: Low
Heart Rating: ♥♥♥♥♥ 5 Hearts
Blurb: Things always happen for a reason, even the things you don't want to happen.
Cerris is an orphan who's been told he's a monster all his life, and he's come to believe it. He did his best to keep his werewolf half under control, but when he killed a hunter, Dominic asked the enforcers for help. Cerris is sent to work with their only werewolf, but as soon as he sees the man, he realizes they're mates, and he runs.
Jackson doesn't understand why Cerris runs, but he intends to find out. When he finally locates Cerris, Cerris' friends intervene and explain what happened to him and why he doesn't want to see Jackson—Jackson is a werewolf, and all werewolves are monsters.
Jackson knows he'll have to work hard to convince Cerris of the contrary, and he hopes finding Cerris' long-lost father will help. He also has to teach Cerris to control his wolf before something happens.
Will Cerris learn control, or will he become the monster he always thought he was?
ISBN: 978-4874-0996-8
Product Link: http://www.extasybooks.com/cerris/
Reviewer: Lisa
Review:  Each book in the Council Enforcer's collection features a new romantic couple. To enjoy the overall story arc and crossover characters, I would recommend reading the series in sequential order. This series is also connected to the Whitedell Pride and the Gillham Pack collection. There is nothing better than a good paranormal romance with two gorgeous men involved.
I have been reading romance and paranormal's for over 30 years and can honestly say that I love a good paranormal romance more than any other kind of story.  It was not until 5 years ago that I started read m/m romance stories.  The action in them just seems to be more believable then when it is m/f.  So over the years you come to cherish and love certain authors more than many others.  It is the way they tell a story that will have you wishing you were right there with them.  And sometimes you wished you were the one falling in love.  This author has moved up the line to be one of my top favorite authors and from the way her stories are told, she will probably stay there. 
Her characters are quirky as hell, protective to the point of well you can guess that answer.  I still have my ultimate favorite ones but many start to work their way into my heart.  Her stories also are full of action, suspense and danger plus some hot sexy time for our guys.  They catch my attention the moment I start reading and keep it all the way to the very last word.  This story gave me everything I could ask for in a story and so much more.
Cerris was half nix and half werewolf, and the werewolf side was a monster.  He had been told that for so long that he believed it.  Not even when others tell him he is not one, he fears that side of him.  So the boss man sends him to a full blooded werewolf who just so happens to be his mate.  Now Jackson just has to keep him still long enough to, well you know.  If you really want all the juicy details, pick up this amazing book.
I love how it has that serious tone to it but there is a bit of humor in it that your attention is captivated throughout it all. I loved the cover and that was what caught my attention first. Although to be honest any book that Catherine writes is automatically bought by me. I just can't seem to get enough of this series. There is something about the way that she tells you a story more than likely have you laughing your ass off at parts of it. 
This story is perfect for when you are trying to take a break or when you just need the sun to shine for you. It caught my attention from the moment I started reading and kept it all the way to the end. It also gave me everything I could want in a book. I can honestly tell you that this is going to be one of those types of series. One that I will have to read over and over. I love the way all the feelings they felt was involved in this story. It was the perfect story for me and I loved it. I can't wait to read the next story.