Hi guys, we have Ken Bachtold popping in today with his upcoming release A Company of Players, we have a brilliant guest post and a great excerpt, so check out the post and enjoy! ❤ ~Pixie~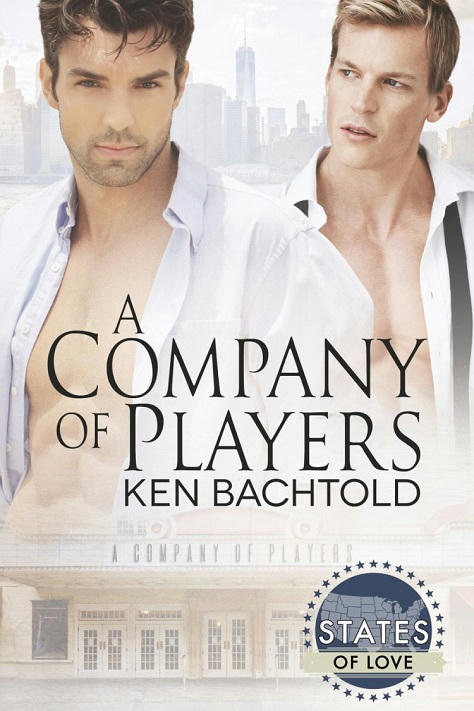 A Company of Players
(States of Love 19: NewYork)
by
Ken Bachtold
Leaving romantic wreckage behind him, Nick Charles and his best friend Barb Anderson use Nick's sizable inheritance to fly to one of the most exciting places in the world—New York City—with plans to open their own theater. In doing so, they meet Ross Taylor, the handsome real estate man and actor, and Rudy his construction-worker cousin. Ross is determined to heal Nick's fragile heart, while shy Rudy and oblivious Barb stumble toward their own connection. Will Rosie Dupree, a rigid method actress, and talented but devious Gordon Holmes destroy their theater dreams? Was choosing the original piece, Starting Over, by an unpublished young playwright the best move for opening night? Will the invited critic show up? Amid the frantic and colorful world of the New York City theater scene, Nick and Barb must open their hearts and risk everything for their endeavors to succeed—both on the stage and behind the scenes.
Release date: 22nd March 2017

Ken Bachtold!
I thought I'd give you a little background on this particular novel because a lot of it is very close to home!  I did, indeed, graduate from San Francisco State University with aBA & MA in Theater and a minor in Art, so, both acting and directing, I described authentic theater references, as I literally lived them.  I turned down a great teaching job at San Francisco City College to, instead, pursue "the lure of the big time" on Broadway in New York. After what seemed like four million unsuccessful auditions (I did get some call backs and a few very positive promises, but nothing ever came from them).
The closest writing-wise I came to success, was when I took my first original musical, BOO!, based on an old Gothic drama called The Castle Specter, to Jimmy Hammerstein, Oscar's (Oklahoma, Carousel, etc.) son, and he returned it saying, "I like your writing very much, but I'm not interested in spoofs like Dames At Seaand Little Mary Sunshine." There followed several weeks of "walls I have known"! But, eventually, I decided, as in the novel, to start my own little company, titled (you probably guessed) A Company of Players.
I'd thought and thought about the name, and I wanted something that tied back to theater history.  I thought of the time when theater companies traveled in great danger from place to place in broken down wagons with sadly over the hill horses and with a mongrel dog following. But, they persevered.  I thought of The New Hippodrome, after the once fabulous establishment in New York, but liked the history and symbolism of my first thought. I managed to direct five plays (and here, again, I deviated from the norm, in that I always searched for plays by well-known playwrights, but not their famous play, or an obscure (forgotten) play that I thought deserved to see a new production. I had a core group, hence the name, and auditioned for any other parts.
So, that's a bit of back story, which I hope you find interesting!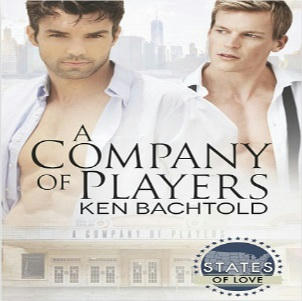 Excerpt!
"NEW YORK, New York."
"Will you please stop singing that song," I said.
"Why?" Barb asked.
Now, Barb—Barbara Anderson, should I need to be formal about it—and I go way back. And I mean way, way back. All the way to kindergarten. Then through Parkside Grammar School, three hideous years at Aptos Junior High, three lovely years at Abraham Lincoln High, and seven years at San Francisco State University, where we each earned a BA and MA in theater. She could have been my twin sister. Our coloring was the same. We had the same oddly blue-green eyes and dark hair, mine curly, hers straight. She cursed the gods that it wasn't the other way around. We were both kind of gym rats. The only difference was that I was six foot four, and she was five foot four. Standing opposite each other, she came up about even with my breastbone.
Oh, another slight difference: she was straight and I was gay.
Barb had always complained bitterly that I didn't look it. I'd done the football thing in high school and lettered in track in college, in a way trying to counteract the damning fact not that I was gay, but a theater major. But I liked sports. What can I say? I had no interest at all in shopping or fashion. Barb always claimed I was faking it so I wouldn't have to take her to school dances when she didn't have a date. When she didn't have a date? Fat chance of that ever happening. She had always had to practically fend the guys off with a two-by-four. She just loved to tease me. And of course, I loved to give it right back. I could always get a rise out of her by calling her little midge or smidgeon.
"Why should I stop singing?" Barb insisted, breaking into my reverie. "None of the other passengers seem to mind."
We were seated in obscenely comfortable, gray leather, first-class seats while zooming through the air on our way from San Francisco to New York. Oh yes, at last our dream was coming true.
"Because that particular song makes me very nervous," I said.
"But," she said, "here we are, after years of planning, on a plane, a silver bullet, hurtling toward New York, the place we've only dreamed about for the last seven years."
"I know. I just don't want to hex it. Hubris, you know."
"I don't really think hubris is involved if one is delighted to have one's dreams coming true."
"But—"
"Nicholas," she said. She only calls me by my full name when she's really irritated with me. Usually, it's simply Nick.
"What, Barbara?"
"Now, don't get all huffy. It's just that I worry about you."
"I know." I gave her hand a little pat of reassurance.
"Ever since your grandmother made all this possible, we've thought—"
"About nothing else."
"Our own repertory theater…."
"In New York."
"Right."
"New York, New York," I sang.
"Now that's the spirit."
"I just worry about that later lyric that implies it's pretty difficult to 'make it' in New York."
And of course, Barb had to say, "Let's hope New York brings you your other great dream… Mr. Right."
"Let's not go overboard," I told her. "Enough about luck for one day. We should never risk asking the Fates for more."
"Well, Mr. Right would surely help get you over that bastard, Adam. Even from the start of that disaster, I told you I never liked him. He had a vaguely slick aura around him. Too slick. But you wouldn't listen to my sage advice, you were so befogged by his looks."
"Please, for the hundredth time, let's not go there. Subject closed. The end. Finished. Finis."
"Seriously, Nick, do you think you'll ever get over the evil Adam? I know you don't want to go there, but I also know if a person doesn't vent, they actually risk having their head explode all over the place. Very messy."
She kept a straight face. I couldn't. I had to chuckle. Barb could always make me laugh, no matter what kind of a mood I was in.
"You're like a pit bull, once you get your teeth in something. I'd have to break your jaw to get loose."
"Don't say bad things about pit bulls. They only have a bad reputation. It's how a dog is raised that counts."
"Sorry. Sorry. I didn't mean to force you onto one of your many soapboxes again."
"Poor things. They're actually very sweet if they're raised with love. I know one called Rosebud."
"Rosebud?"
"Right."
I felt like Charlie Brown. I wanted to throw my head back and go "Arrrrgh." So I did.
Of course, just as I threw my head back and made the appropriate sound, always one to act out my emotions, our flight attendant entered first class and stood right next to me. The poor guy took a few steps back. Probably thought I was some kind of madman.
"Er… sorry," I mumbled.
"Forgive him," Barb rushed in. "He only has a week off, and then I have to take him back to that awful place." She sighed deeply.
The guy just looked at the two of us until Barb squealed with laughter. When I joined in, so did Bob, as our flight attendant's name tag proclaimed him to be. He was obviously much relieved.
"Something to drink?" he asked, more to me than to Barb. Oh-oh, too soon to go there again.
"Martinis," Barb said.
"I'm afraid we can't serve anything quite that fancy."
"No olives?" Barb said. "Too much extra weight?"
"Ha-ha. But I can get you champagne."
"In a paper cup?" Barb asked.
"Better than nothing," I said.
"Gotcha," Bob said, chortling as he strode confidently back down the aisle, flipping aside the red curtains that separated us overprivileged riders from the regular folks cramped up behind us.

About Ken
BA & MA from San Francisco State University in Theatre (Acting and Directing) with a minor in Art.
When I constantly had trouble finding the type of book I liked to read, I finally said to myself, "Why don't you stop moaning and write one yourself?" So I did. I was thrilled to the marrow (literally) when Dreamspinner accepted Seeing the Same Blue. Then followed acceptanceof Blue Valentine Blues, part of their Valentine anthology. Next, came acceptance of All By Myself, Mood Indigo and now A Company Of Players is being released on March 22, 2017. My cup runeth over!  All books can be found on Amazon and Barnes & Noble
Before that, Outskirts Press published Love Like Lightning – Ten Stories of Love at First Sight, also on Amazon.
My original play, Starting Over (which I also directed), was just staged as part of the Ninth Annual Fresh Fruit Festival here in New York. Audience reaction was terrific.  It was one of nine plays accepted out of 60 submitted.  It was an MM romance.  The blurb in the brochure for the festival read, "A play about love and loss.  Griff has recently lost his longtime partner.  Can he find happiness with Ben, the new neighbor down the hall?  He's supported by his sister and opposed by his widowed mother, now remarried to a homophobic preacher."
I've also written 4 musicals, book, music and lyrics.
Saloon (loosely suggested by the old melodrama The Drunkard) which opened The Gatetway Dinner Theatre in New Jersey to great reviews (I can forward them if you wish). It was subsequently optioned by Broadway producer Jerry Schloschberg (who, at the time was, producing the revival of On The Town with Bernadette Peters), but a show sluggishly following the old material opened and closed the same night, and he backed off thinking there was now a "stigma" on the material.
The Facts of Life (a musical about War, Prejudice and Aging, circa the '60s) was written at the BMI Music Workshop, taught by Broadway legend, Lyman Engle, and only after several auditions before acceptance in the class.  It was deemed worthy of a staged reading there.
Boo! based on the old gothic novel The Castle Spectre was done by several regional theatres.
I was hired to doctor a musical based on Iphigenia At Aulis, called The Winds Of Aulis.  I changed the name to Dilemma! and wrote a subplot and mostly new lyrics.  Although the play was fully backed, it never reached production and I never found out why.
I've written and staged numerous night club and cabaret acts and taught singing for the musical stage for 15 years.
Website | Twitter | Facebook | Pinterest