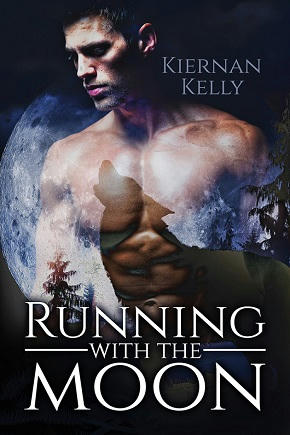 Title: Running With the Moon (2nd Edition)
Author: Kiernan Kelley
Genre: Paranormal
Length: Novella (140 Pages)
Publisher: Dreamspinner Press (March 15, 2017)
Heat Level: Low
Heart Rating: ♥♥♥♥♥ 5 Hearts
Blurb:  Heart of the Wolf
What happens when a veterinarian ends up a patient in his own animal clinic?
Dr. Dae Anderson needs to lose the deadbeat boyfriend who is holding him back, but Jack is determined to hang on to Dae—even if he has to resort to violence.
Dae has worked hard to fit in among humans, and if his secret gets out, he'll lose everything. His veterinary assistant, Sean, might be just the man to stand with Dae… against Jack and the world.
Courage of the Wolf
The most painful changes don't involve the shape of the body, but of the heart….
Just as Dae and Sean are settling in to life as a couple, Dae is contacted by his brother, who still lives with his former pack and who exiled him for being gay.
If he refuses to return to Wyoming, a sociopathic alpha will slaughter Dae's family one member at a time. And deep down, Dae knows he must confront his past before he can truly have a loving future with Sean. First, they have to stay alive.   
First Edition of Heart of the Wolf was published as Change of Heart by Torquere Press in 2007.  The first edition of Courage of the Wolf was published as Change in Attitude by Torquere Press 2011.  Now you get both books all in one nice package.
ISBN: 978-1-63533-343-5
Product Link: https://www.dreamspinnerpress.com/books/running-with-the-moon-by-kiernan-kelly-8259-b
Reviewer: Lisa
Review: Now normally I would separate each story and give you a rating for each, but let's face it they are both going to be the same. 
In Heart of the Wolf, our sexy vet has finally decided to end it with his loser boyfriend, whose only real job was to screw around on the doc.  The last time about got the man his ass kicked, which he deserved.  But our doc goes out running and well if you want to know more than you're going to have to read it.  But his sexy assistant has been in love with the doc for over four years.  So now it is his turn to turn the tables, but he is in for one big surprise, our sexy doc is a werewolf.
Now in Courage of the Wolf, our sexy duo is going home.  It had a home coming that was not as happy as one would think do to the threat in Dae's old pack, danger, suspense and murder.  He got a letter that was 3 months old from one of his brothers telling him they need his help.  The old alpha has definitely lost his mind.  Things are going to get a bit more interesting to say the least, but if you really want to know the juicy details go pick up this book.
Usually I am one for a full size story that isn't split up like this book.  However it has some surprises that was a hit for me.  I loved the connection that Dae and Sean had as well.  I wasn't as pleased with the second half, but only because it was not a lot of it I suppose.  It is a well written book that will have you on the edge of your seat or laughing your ass off on Sean.  He is a definite plus for any alpha. 
I enjoyed this book and think you will also.