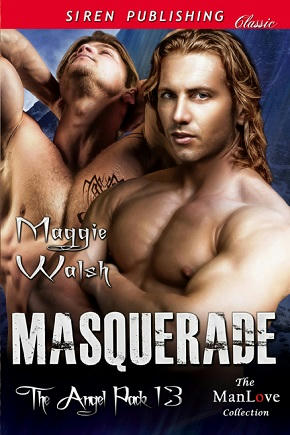 Title: Masquerade
Series: The Angel Pack 13
Author: Maggie Walsh
Genre: Paranormal
Length: Novel (198 Pages)
Publisher:  Siren Publishing (February 23, 2017)
Heat Level: Moderate
Heart Rating: ♥♥♥♥♥ 5 Hearts
Blurb: When Xavier Angel meets his mate, he is ecstatic, but the closer he gets to Liam, the more ill he becomes. When this mysterious illness threatens Xavier's life, causing him to almost die, Liam discovers what is wrong with Xavier. His heart breaks knowing he will never be able to have his mate—because to do so would cost Xavier his life.
To try to stop this unknown force keeping them apart, Xavier and Liam must travel back to Xavier's birth pack in search of a wicked omega who may be the only one able to help them. But their only chance at happiness and love turns out to be the very thing that caused it.
Xavier will do whatever he has to in order to claim his man, but will it be enough? Will they be able to stop this great evil and save Xavier?
Or will their love be the one thing that kills them? 
ISBN: 978-1-64010-010-7
Product Link: http://www.bookstrand.com/book/masquerade-walsh
Reviewer: Lisa
Review: Each book in The Angel Pack collection features a new romantic couple. To enjoy the overall story arc and crossover characters, I would recommend reading the series in sequential order.  
Action pack, suspenseful, danger surrounding them, some very hot sex, kinky characters are just a bit of what you get with this book.  I am telling you that the pace is perfect, and the guys are protective as hell.  I have never come across a series that has so much to offer then this series.  It has been awhile since I have read one of these books and in the last 2 days that is all I have been doing with them, reading all night long.  I love the world that was created and the way it just flows off the pages makes it feel like you are right there with them.  Noah of course is my ultimate favorite little guy.  So damn sweet and let's not forget sexy as hell.  However this book gives you two new guys who are mates, but there is some bad mojo in the way.
Xavier has a thing about big men and it usually doesn't go the way he wants it to though.  So when he finds his mate, damn the man is hot.  That is until he finds out that Liam was once as evil as you can guess. Reborn he is now fae, but for some reason Xavier just can't get over the other.  Not to mention when he gets closer or thinks about him, pain is all he gets.  Something is going on.
Liam has always wanted his mate but didn't know why his mate hated him so.  Then the truth comes out and he must go back to Xavier's pack to fix what has happened.  However here comes the twist, well you are just going to have to read this book to find that out.
I have never had so much fun reading, following and just jumping for these guys.  Hot is just one word to give them, and the way they are with each other is another plus.  The guys just seemed to work perfect with each other, and our sexy new couple is an added bonus to the group.  Not that they are new to the group but to the love fest. 
I had a lot of fun reading this and look forward to another winning book from this amazing author.