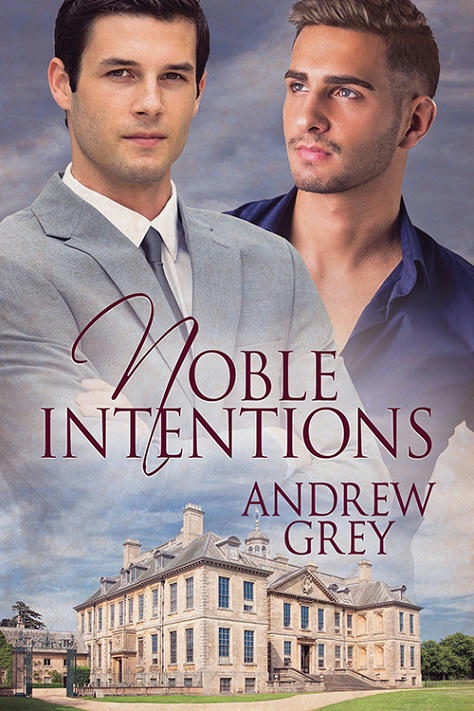 Title: Noble Intentions
Author: Andrew Grey
Genre: Contemporary
Length: Novel (200 pages)
Publisher: Dreamspinner Press (12 Dec 2016)
Heat Level: Low
Heart Rating: ♥♥♥♥ 4 Hearts
Blurb: Robert Morton is in for the surprise of a lifetime. His mother, a bit of a rebel, raised him away from the rest of the family, and it's not until he's contacted by his lawyer about an inheritance that he learns who he truly is: the new Earl of Hantford. His legacy includes ownership of the historic Ashton Park Estate—which needs repairs Robert cannot afford. He'll simply do what the nobility has done for centuries when in need of money. He'll marry it.
Tech wizard Daniel Fabian is wealthy and successful. In fact, he has almost everything—except a title to make him worthy in the eyes of the old-money snobs he went to prep school with. His high school reunion is looming, and he's determined to attend it as a member of the aristocracy.
That's where Robert comes in.
Daniel has the money, Robert has the name, and both of them know they can help each other out. But their marriage of convenience has the potential to become a real love match—unless a threat to Daniel's business ruins everything.
ISBN: 978-1-63533-123-3
Product Link: https://www.dreamspinnerpress.com/books/noble-intentions-by-andrew-grey-7873-b
Reviewer: Prime
Review: I love nothing more than reading a sweet story by Andrew Grey. The guy knows how to pull at the heart strings and make you cry at least once within a story. The fact that this story is based around the English aristocracy with a marriage of convenience becoming something more, I knew that this was the book for me (albeit a modern tale, I do have a penchant for historical MF Georgian period romances every once in a while).
The story itself is very simple. Heck, I've already done the summary a couple sentences ago. While I wish there had been either a bit more plot development that lead to the "I love you", or more character development, or both – I loved reading this story for what it is.
Robert Morton is a Cornish barrister who leads a quiet life, happily working in his country law practice, close to his widowed mother. Then his life changes when he finds out that not only did his mother have a family – she had a brother who was an Earl and had not approved of his sister marrying a "commoner". As I said, for those into stories with Earls and Dukes, this is kind of the usual trope.
Over on the other side of the Atlantic is New York businessman and someone who is very much looked down by the old money of New York society, Daniel Fabian. These feelings are made even stronger when we receives an invitation for his high school reunion – a place that wasn't exactly welcoming since he was a scholarship holder in an elite school for the kids of the rich and powerful.
For both men a marriage of convenience will be a simple solution so that they can be what society expects of them.
I found that the point in the story where love conquers all was too rushed for me, but I loved everything else about the book.