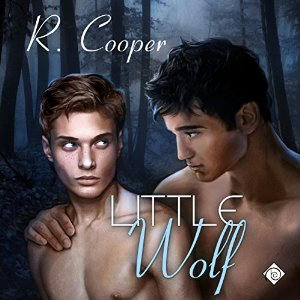 Title: Little Wolf
Series:  Being(s) in Love 04
Author: R Cooper
Narrator: Robert Nieman
Genre: Paranormal
Length: 18 hrs, 54 mins
Publisher: Dreampsinner Press LLC (2nd May 2016)
Heat Level: Moderate
Heart Rating: ♥♥♥♥ 3.5 Hearts
Blurb: On the run from his old-blood werewolf family, Tim Dirus finds himself in Wolf's Paw, one of the last surviving refuges from the days when werewolves were hunted by humans and one of the last places Tim wants to be. Kept away from other wolves by his uncle, Tim knows almost nothing about his own kind except that alpha werewolves only want to control and dominate a scrawny wolf like him.
Tim isn't in Wolf's Paw an hour before he draws the attention of Sheriff Nathaniel Neri, the alpha-est alpha in a town full of alphas. Powerful, intimidating, and the most beautiful wolf Tim has ever seen, Nathaniel makes Tim feel safe for reasons Tim doesn't understand. For five years he's lived on the run, in fear of his family and other wolves. Everything about Wolf's Paw is contrary to what he thought he knew, and he is terrified. Fearing his mate will run, Sheriff Nathaniel must calm his little wolf and show him he's more than a match for this big, bad alpha.
Product Link: Audible US | Audible UK
Reviewer: Prime
Review: Upfront I'm going to say that Little Wolf is a very long audio and you will need the patience to listen. This is book 4 in R Cooper's series, but the books work as standalone stories too. I have only heard/read the previous book in the series, A Beginner's Guide to Wooing Your Mate, which despite it being predicated on mates who met in high school and a massive miscommunication, I found quite enjoyable.
The story is about Tim Dirus, who is on the run but was able to settle in Wolf's Paw for a spell (not literally, well, maybe). Tim is the titular Little Wolf. He also happens to be half human and is hiding a massive secret from his mate and his new friends in Wolf's Paw. Then there is the town's sexy sheriff Nathaniel Neri. He instantly knows that Tim is his mate, but is forced to wait for his wary mate, who does not know much about being shifter, while Tim learns about were (though some would say he is quite unwilling).
I know that there will be a lot of people like me – they don't mind a book which is based off of miscommunication and a rebellious runaway who refuses to get close to anyone, let alone the man that he doesn't realize is his mate. However, at the same time, like me, there will be plenty of people that find that the plot drags along fairly slowly. It annoyed me to the point I sped up the audio because I couldn't handle the thought of not finishing. Luckily I did a lot of listening while doing edits on my thesis so things weren't so bad.
However, there is something I know will annoy a lot of fans of the shifter theme – that's when one of the main characters sort of/maybe cheats on his mate (even if in this case Nathaniel basically pushed Tim to be with the other wolf if only for experience or to understand his feelings). Tim's thoughts tend to go around in a lot of circles, which is a major reason why the story seems to drag so long.
But all in all, I have to say I still did enjoy the book. It does have all the elements of enjoyable romance. Not only that, Nathaniel and Tim work well together. I love a good paranormal/shifter romance and this certainly delivers, if only the plot and character development is slow. The other saving grace for the book is Robert Nieman's wonderful narration.