Hi guys, we have Russell J. Sanders popping in today with his upcoming release All You Need Is Love, we have a brilliant guest post and a great excerpt, so check out the post and enjoy! ❤ ~Pixie~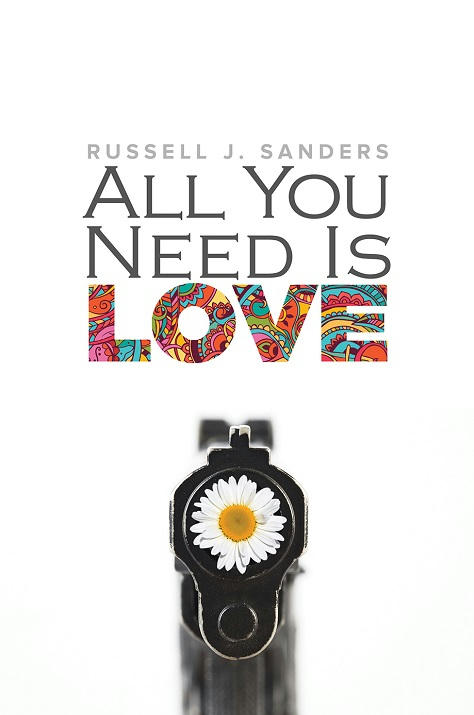 All You Need Is Love
by
Russell J. Sanders
It is 1969 when Dewey Snodgress, high school theater star, meets irrepressible hippie Jeep Brickthorn, who quickly inserts himself into Dewey's life—and eventually, into his heart. Meanwhile, Dewey prepares to appear in a production across town, a play about protestors of the Vietnam War, where he befriends the wild and wonderful Lucretia "LuLu" Belton, who is also determined to follow her dreams and become an actress—whether her parents approve or not.
 The show has a profound effect, especially on Dewey's father, who reconsiders his approval of the war after his son's performance. But Dewey knows his dad won't be so accepting if he reveals the love he's developing for Jeep, so he fights to push his feelings away and keep the peace in his family.
 Still, Dewey can't ignore the ripples moving through society—from the impending Woodstock Festival to the Stonewall Riots—and he begins to see that the road to happiness and acceptance for him and Jeep might lead them away from conservative Fort Worth, Texas—and Dewey's dad.
Release date: 21st March 2017

The Times, They Were a'Changin'
By Russell J. Sanders
A suburb of Fort Worth, Texas…1969…this isn't just the setting of my new novel All You Need Is Love, it is where and when I spent my teen years. I was Dewey Snodgress, the lead character of the novel, in so many ways. I listened to the music Dewey listens to; I was a singer and actor at my high school, just like Dewey; and I led a sheltered life. Like Dewey, I had no idea of what "gay" was, nor did I know I was gay. Unlike Dewey, my personal revelation didn't come until years later. But that being oblivious extended, in a more far-reaching way, to Dewey, and to me. I was growing up in one of the most turbulent eras in our history, a time I've since come to feel was one of the most influential decades America has ever experienced: The 1960s.
The Sixties were a time of hope and progress, a time of loss and sadness, a time of social upheaval. Beginning with the election of John F. Kennedy as President of the United States and ending with an incident that has come to be known as the Kent State Massacre, we saw the rise of the Hippie Culture, the Civil Rights Movement, the joy of three days of peace and love called Woodstock, the death of the iconic actress Judy Garland, and the beginnings of the gay rights movement, thanks to a courageous group of drag queens who finally decided "we're not gonna take it anymore" and fought back at police brutality and discrimination. And there I was, roaming the halls of a big city high school, singing my heart out in choir, spending countless hours at play rehearsals, reading voraciously and joining the ranks of National Honor Society and the Magna Cum Laude graduates while all the while totally blind to what was going on in the "outside" world.
My love for music turned me on to the sounds of the Sixties culture: the Beatles, the Rolling Stones, Herman's Hermits, and the rest of the British Invasion. And I was hip to the folk sounds of Peter, Paul, and Mary; Joan Baez; and the poet of the sixties Bob Dylan. But while I sang along, I didn't truly listen to the lyrics. I didn't know the British rockers were bringing about a whole new rock n' roll art form, nor did I know that the folkies were telling us to stand up, fight back.
And I didn't know all that much about the undeclared war raging all the way across the world in an Asian country called Vietnam. I knew men not very much older than I were dying, and I didn't want to have anything to do with it. But I was clueless as to the impact that war, that music, those Hippies with their message of "make love, not war" were having on America.
And so, when I got older—and I hope, wiser—I started reading about that era I'd been blind to. And I saw its significance, and I knew that one day, I would be able to spread the word—years later, but at least I could maybe make those who didn't live then understand what happened.
And so—All You Need Is Love. A dear friend I'd lost touch with, one of those free-spirited Hippies—the only one I ever met—died, far too young. I heard the news and realized how much I loved him. When we became friends, I didn't know I was gay, and all these years later, I know he was not gay. But as a writer, the imagination starts churning, and the magic question surfaces: what if? And Dewey Snodgress was born; Jeep Brickthorn, the irrepressible Hippie was born; and just to round things out and prove this novel was truly set in the Sixties, LuLu Belton, the black teen actress, was born. After all, neither Dewey nor I ever met a black person when we were in high school. It was high time Dewey did, at least. And what's a novel about the Sixties without a black character? LuLu is just that. She is a character, in the sense that she is wild and whacky and funny and, I hope, unforgettable.
So All You Need Is Love is my paean to the 1960s. That's a good word, paean: it means a tribute, sort of a love song. The Sixties were full of great music. I suggest putting together a play list to propel you through the saga of Dewey, Jeep, and LuLu. Start with Tommy James and the Shondells's  "Crimson and Clover" and Lesley Gore's "Sunshine, Lollipops, and Rainbows." When you've absorbed the lighter side, head on to Peter, Paul and Mary and Joan Baez, the best at singing the message of Bob Dylan (except Bob himself, of course.) Listen to some "Blowin' in the Wind," some "Don't Think Twice, It's Alright," some "The Times, They Are a' Changin'." Get adventurous with Vanilla Fudge's psychedelic rendering of "People Get Ready." And for dessert, you can't go wrong with The Beatles: "I Want to Hold Your Hand," "We Can Work It Out," "The Long and Winding Road," "Let It Be." And don't forget "All You Need Is Love."
To truly enjoy my novel, sit back and let the Sixties overtake you. Journey back to a time when high schools still had school-sponsored prayer; the girls had flipped hairdos plastered together with Aqua Net hair spray; the guys wore button-down-collared oxford cloth shirts with their pressed jeans; a group of societal dropouts, the Hippies, started preaching against war and for love; boys were getting drafted to fight against their will in a war that was incomprehensible; and Martin Luther King, Jr. was leading a movement that changed the way we think about race.
And know that the gay rights movement was not far behind. In a time when being gay was considered a sickness, people were finding the courage to burst out of their closets and live more openly. I applaud those pioneers. It would be many years before I found that courage, but thank God I finally did, and now I write novels to tell teens and others that it's okay to be gay, it's normal to be gay, it's a good thing to be proud of being gay. It's a great thing to love a gay person, whether you yourself are gay, straight, bi, or not sexual at all. Love is love is love is love, to quote Lin-Manuel Miranda. After all—all you need is love.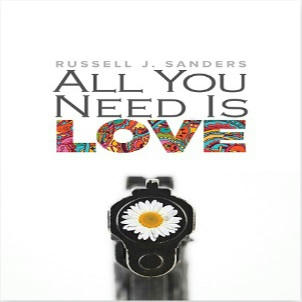 Excerpt!
After school Jeep meets me at the car. He stands there, waiting patiently. He must have had to haul his big ass to get there before me. He's no lithe-bodied sprinter. Jeep's not fat, but he's sort of a teddy bear-type body, tall and squishy-massive. His giant grin greets me as I put my key in the car door, get in, and reach over to unlock his door.
"Let's burn some rubber, Dew," he says, settling into his seat.
There is no way I am going to "burn some rubber." My daddy—even as old and as big as I am—would tan my hide with his belt if he caught me mistreating his car.
I pull out of the parking lot with all the caution my grandpa taught me when he gave me driving lessons, and we head home. Jeep, just like this morning, never shuts up.
"Okay, so what about geometry homework? You done it yet? I tried to do it in class, but not only was I clueless, but I kept nodding off."
"It was an easy theorem, Jeep. I can show you."
"Come inside when you drop me off. I think we have some Cokes. You like Cokes? Ma bought some at the store yesterday, I'm sure. I told her to get some Grapettes, some RCs, some Dr Peppers, some Nehi Oranges, and some Big Reds, so we got all kinds of Cokes to choose from."
Yep, I could tell Jeep was a Texan born and raised. Around here, we call any kind of cold drink a Coke, no matter what the brand is.
"I could drink a Nehi," I say.
"Nehi it is."
He tells me his address, which is in the subdivision right next to ours. Now, we're not rich or anything, but our little two-bedroom house with my bedroom addition Daddy added is a mansion compared to the house Jeep lives in. It is about half the size of ours, the paint is peeling, and the screen door sticks.
I find myself in a tiny living room. There is a fold-out divan, a chair, a coffee table—with three legs and a stack of phone books propping up the fourth corner—and a little old black-and-white TV. I notice a small kitchen off this room to the right, and Jeep leads me through a door to a little bedroom in back of the living room.
"This is my room. Ma sleeps on the couch. She likes it. Says it helps her back."
I don't question him, but in my heart I know his mother probably chose the couch because she wanted her son to have his own room.
Jeep's room has a single-sized bed, a little desk with chair, and a chest of drawers. There is a bathroom off that, and when I peek, I see also the bathroom opens into the kitchen.
Pointing to the bed, Jeep says, "Have a seat. I'll get us our Cokes."
I sit as he disappears. I look around. He has a battered stereo with a stack of record albums. The one on top reads Vanilla Fudge. In the corner is an electric guitar with an amp. That is about it for the room. Not much here.
Jeep comes back carrying two bottles: my Nehi Orange and a Grapette for himself. "These Cokes are icy cold. Just what we need after a hard day's work."
He pulls out the desk chair and plops down in it after handing me my drink.
He takes a long swig of Grapette. He lets out a moan of ecstasy. The boy likes his grape drink, I think. Then he jumps up, grabs the Vanilla Fudge album, pulls out the record, and puts it on the turntable. "Now you're in for a treat."
Very strange sounds come from the machine. He has it cranked up as loud as it will go. I recognize the song, but this version is a far cry from the Rascals' record. It assaults me at first, but within thirty seconds I find myself responding to the look on Jeep's face. His eyes are closed, and he is lost in another world. I close my eyes too. And that simple act is amazing. Shutting out the entire world, suspended in darkness, I get it; this group speaks to me. I'd heard my English teacher use the word enraptured to describe the Romantic poets. Then I just laughed to myself at her word. But listening to "People Get Ready" now makes me realize truly what enraptured means. It is an experience I will never forget.
The song comes to an end, and I open my eyes. Jeep reaches over to take the needle from the record. I swear I see tears drop from his cheek.
"What did you think?" he says, as he replaces the record in its cardboard sleeve, being careful to touch only the outer rim of the vinyl, like he cherishes it.
I can't figure out what to say. I want to speak. But somehow, anything I say won't describe what I felt, what I'm feeling.
Jeep looks at me. I look at him. Somehow, he knows. He knows how I'm feeling. And words aren't needed.
And he breaks the spell. "Geometry?"
He pulls his book from the pile he'd brought into the room, and I spend the next twenty minutes explaining the homework to him. He's a fast learner. Jeep is no dummy. He may be a hippie freak—that's what everyone I know calls his kind; never just hippie, always hippie freak—but he is my hippie freak new friend. And he is funny, and smart, and sensitive. I'd learned that today about him.
We finish our homework, and then he bellows, "Now, how about that haircut?"
"Jeep," I protest, "I can't give you a haircut. What if I mess it up?"
He primps like a girl and says, "You can't mess up these curly locks."
He hands me scissors, and I very carefully trim around his ears. He looks in the mirror and pronounces me hairstylist of the year, even asks if he can make another appointment in two weeks at my "salon."
We both laugh at his mimicry. And it is a good laugh.
As I start to leave, he thrusts the record album at me. "Don't forget your Fudge," he says. I feel like I've just been given the most precious gift he could bestow.
Somehow, I know he is going to "miss" the bus the next morning. And probably every morning thereafter.
About Russell!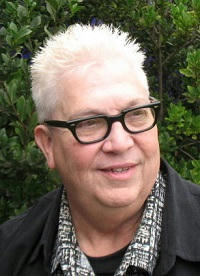 Russell J. Sanders is a life-long devotee of the theater. He's a singer, actor, and director, winning awards for his acting roles and shows he has directed. As a teacher, he has taught theater arts to hundreds of students, plus he's also taught literature and writing to hundreds of others.
Russell has also travelled the world, visiting Indonesia, Japan, India, Canada, the Caribbean, London, Amsterdam, Paris, Rome, Florence, and Venice—and almost all the US states. His friends think he's crazy, but wherever he goes, he seeks out Mexican restaurants. The Mexican food in Tokyo was great, he says; in Rome, not so good. Texans cut their teeth on barbecue and Mexican food. Russell's love for enchiladas led him on a quest to try them wherever he can find them, and he has found them in some very out of the way places. And good or bad, he's delighted to sample his favorite food.
Most importantly, Russell is an out and proud Gay man, living in Houston with his husband—a relationship that has lasted almost twenty years. He hopes that his novels inspire confidence and instill pride in his young Gay fans, and he also hopes others learn from his work.
Website | Facebook | Twitter | Amazon Author Page | About Me View my book trailers:  (all book trailers use free use public domain images and music) Special Effect | The Book of Ethan | Colors | All You Need Is Love