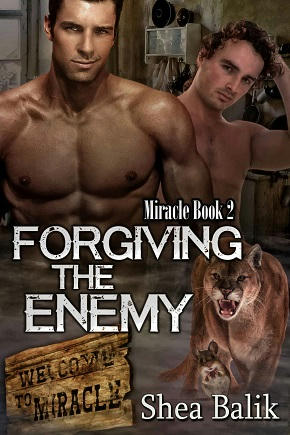 Title: Forgiving the Enemy
Series: Miracle #2
Author: Shea Balik
Genre: Paranormal
Length: Novella (143 Pages)
Publisher: Shea Balik (March 6, 3017)
Heat Level: Low
Heart Rating: ♥♥♥♥♥ 5 Hearts
Blurb: In a world where everyone was against them, they needed a Miracle. What no one had expected was to find their salvation in an abandoned town that was ready to collapse. Yet, that is exactly what happened when they moved to the town of Miracle, Oregon.
Lucca had always felt trust was something only fools allowed themselves to experience. Since the age of five, he'd learned that not even family could be trusted to keep him safe from the cruel reality of life. That point was driven home when he and his friends were forced to flee their pack for fear of death for no other reason than who they loved.
Jari had lived in hell since he was nineteen years old and he'd been naïve enough to believe his Alpha's claim they were mates. Now he existed in a world of lies and betrayal that had him trapped and miserable. Just when he thought his life couldn't get worse, he was caught leading his best friend to his death. A part of him had been glad he hadn't succeeded and was ready to die for his crime, but life was never that easy, for the man who'd captured him was none other than his real mate.
Can Lucca find a way to trust his mate or will the sins of their pasts keep them from finding their happily ever after?  
ISBN: B06WWH882P
Product Link: https://www.amazon.com/dp/B06WWH882P/
Reviewer: Lisa
Review: Each book in the Miracle collection features a different romantic couple. To enjoy the overall story arc and crossover characters, I would recommend reading the series in sequential order.   
Every once in a while you find an author that can give you a world that would be perfect to live in. I came across Shea awhile back when she had written the first book.  I knew from that moment that she was going to be one of my favorite authors of all time, if not the top one. There is something about the way that she writes that not only draw you in but keeps you there. She gives you hot sex, lots of love and tenderness, mixed in with excitement, adventure and lots of dangerous situations. 
They are not only the perfect length for me, but they are so full of detail that it feels like you are right there with them. They not only entertain you but captivate you throughout the whole story. For me once I start reading I can't move until I find out how they end. Her characters are also very fascinating and unique to me.
The characters are beautifully written with big hearts, however if you cross them, they have no problem putting you down. To me there is nothing better than a good old paranormal love story.  There is just something about them, that even though they are not possible one would think different.   
Jari had been friends with Nole at one time, that was until the alpha fooled him.  He realized that he was being played when the alpha killed his cousin in front of him.  He didn't know away out.  Then his alpha planned on using him to find Nole and he was screwed.  He would either die or be captured.  Then the unexpected happened, he found his mate.  
Lucca wasn't too sure if he could trust the little mouse, but he knew he wanted him.  Too bad the ones after them all wanted them dead, and he knew he would protect this sexy little man.  It does get real juicy but you're going to have to read the book to find out.
I can honestly tell you that this is going to be one of those types of series that you can't put down and have to read more than once. It is the perfect story for me and gave me all that I needed. I love the way all the feelings they felt was involved in this story. I had a blast reading it and I can't wait to read the next story.