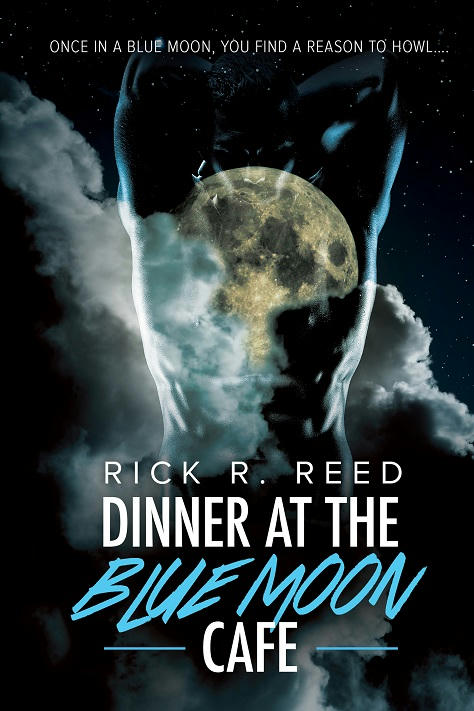 Title: Dinner At The Blue Moon Cafe (2nd Edition)
Author: Rick R. Reed
Genre: Paranormal, Mystery, Suspense 
Length: Novel (200 Pages)
Publisher: Dreamspinner Press (March 13, 2017)
Heat Level: Low
Heart Rating: ♥♥♥♥ 4 Hearts
Blurb: A monster moves through the night, hidden by the darkness, taking men, one by one, from Seattle's gay gathering areas.
Amid an atmosphere of crippling fear, Thad Matthews finds his first true love working in an Italian restaurant called the Blue Moon Café. Sam Lupino is everything Thad has ever hoped for in a man: virile, sexy as hell, kind, and… he can cook!
As their romance heats up, the questions pile up. Who is the killer preying on Seattle's gay men? What secrets is Sam's Sicilian family hiding? And more importantly, why do Sam's unexplained disappearances always coincide with the full moon?
The strength of Thad and Sam's love will face the ultimate test when horrific revelations come to light beneath the full moon.  
ISBN: 978-1-63533-296-6
Product Link: https://www.dreamspinnerpress.com/books/dinner-at-the-blue-moon-cafe-by-rick-r-reed-8283-b
Reviewer: Lisa
Review: I chose this book because I definitely thought it was a mystery, and it was however I wasn't really paying attention to the werewolf part to much.  So you can imagine my surprise when I started reading it.  I have read a couple of books by this author, and have to say that he has a top notch imagination, and wonderful for us because that imagination gives us a good book. Although I do admit, this one leaves me on the edge. I can't decide if I liked it or if I hated it.
Thad is a sweet young man who gives him time getting things together for ones who have AIDS.  He has a gentle soul and a big heart.  When Thad walks into the Blue Moon Cafe, his heart starts beating and his hands start sweating.  He has found the man of his dreams.  That man of his dreams has a secret that is deadly though.
Sam is one hell of a sexy Sicilian.  He can cook like no man can.  One night with Thad, and he wants more but his family is a very difficult family.  Then the murders of gay men start happening, and Thad's best friend found the answer.  Now Sam's disappearance around the full moon just so happens to be the same time as the murders.  Thad is going to find out what is going on, and if you want to know more then read the book.
Now I have to admit that I am more romance and paranormal, then creepy paranormal.  Also I am stuck with the werewolf in the city idea, which for most would be odd.  Werewolves and the city just don't mix.  One would think that they would pick more Montana, Wyoming and even Alaska, then a city in Washington.  So it seemed to stick with me throughout the book.  Then there was the way they are together, and sudden love just doesn't work for me.  I don't know, the whole book just felt rushed and didn't come together like I wanted it to.  Now, even though those are my feelings on the book, it is well written with some juicy parts in it. 
The action pack, suspenseful story mixed in with a romance is just a part of what is in this book.