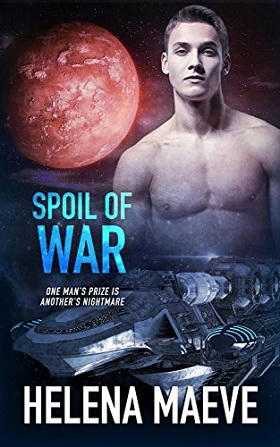 Title: Spoil of War
Series:  Brothers in Arms Anthology
Author: Helena Mauve
Genre: Futuristic, Science Fiction, Ménage / Mutiple Partners
Length: Short (51 pages)
Publisher: Pride Publishing (February 28, 2017)
Heat Level: Moderate
Heart Rating: ♥♥♥ 3 Hearts
Blurb: One man's prize is another's nightmare.
When Briar's partner Kai returns from the Federation's latest skirmish with a handsome prisoner in tow, Briar is both envious and wary. It is common knowledge that the tribespeople of Ganymede are violent brutes who delight in murdering and enslaving their enemies, and Dallan can be no different.
As an officer with the Federation's propaganda machine, Briar has produced plenty of material to substantiate the need to wage war in the asteroid belt. Kai, for his part, has slain many enemies while on active duty and watched just as many of his friends perish in combat.
For a foe to save rather than end his life is unusual in the extreme. Sparing him the horrors of a prison camp seems like a fair exchange, even if the only alternative he can offer is thralldom.
Publisher's Note: This book has previously been released as part of the Brothers in Arms anthology with Pride Publishing.
ISBN: 978-1-78651-530-8
Product Link: https://www.pride-publishing.com/book/spoil-of-war
Reviewer: Shorty 
Review: Briar is not happy when when Kai comes back with a prisoner to keep. He's jealous of Dallan and uncomfortable around the man. The thing I wanted more of was Kai's background and more about how Dallan came to be Kai's prisoner and what exactly happened. There's hardly anything about him except for the basic stuff. So I was disappointed with that. 
I felt the book was too short for the information needed to make it a great read. Aside from that it was entertaining for a short story.