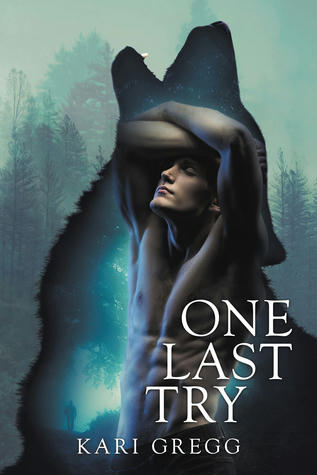 Title: One Last Try
Author: Kari Gregg
Genre: Romance, Werewolves & Shifters
Length: Novella (155 pages)
Publisher: Kari Gregg (February 18, 2017)
Heat Level: Moderate
Heart Rating: ♥♥♥♥♥ 5 Hearts
Blurb: When Nox was fourteen, his brother Joth murdered their older brother, their mother, and a human girl. Nox survived, but the attack wrecked his womb. Shattered, Nox rejected the pack who fumbled helping a barren, grief-stricken omega cope. He built a new purpose for himself as a master craftsman. Mating? No thanks. He's better off alone.
Humans studied Joth in prison until his father's death ended the weekly visits. Joth demands Nox in their father's stead in exchange for resuming therapy and tests… thereby risking the destruction of Nox's carefully ordered world. Again.
The pack drafts alpha fixer Dio to untangle the mess. One sniff of the wary omega convinces him Nox is his mate. New medical treatments offer a slim possibility Nox could bear children, but if the past years taught shifters anything, it is an omega's value is greater than his fertility. Reconciling Nox with his pack is more important. Laying to rest the ghosts haunting Nox is too. Learning to trust? Vital.
Dio just needs to coax Nox into one last try.
Content Warning: Omega mpreg and fertility themes, dubious consent, shifter knotting, an omega who rejects labels, and a bewildered alpha who wouldn't have it any other way.
ISBN: B06WRWNWS8
Product Link: https://www.amazon.com/One-Last-Try-Kari-Gregg-ebook/dp/B06WRWNWS8
Reviewer: Shorty 
Review: Wow, I must say I was sceptical about liking this book when I started reading it but I must say I was pleased with the way it progressed. Nox has been living in his own world since his brother Joth murdered his family and left Nox for dead at Fourteen. He has learned to trust no one and rely on himself with no interactions with the pack. I have to say I understood the reasoning when it comes out the pack went on a mission to hunt him down and kill him thinking he went rogue.
I felt someone should have tried to talk to him before it got to that point in the first place as after all he was a victim as well when Joth severely wounded him. Now I did take issue with the way Nox's mate, Dio, handled Nox after his meeting with his brother. It seemed to me he forced Nox to have sex with him and hardly said a word to him. I realize he was unsure with how to deal with his mate but that certainly was not the way to have sex for the first time in my opinion. Aside from those little details it was a great story about one man who was destroyed by betrayal at the deepest level and how a man and his pack slowly helped him find his way out of the dark that he was in.
This story is truly impressive and thoughtful. Joth's treatment was eye opening as was his attitude toward his brother at first. The pack seriously let Nox down when he was a teenager but attempted to turn things around for good in the end.
Fantastic read. Highly recommended.