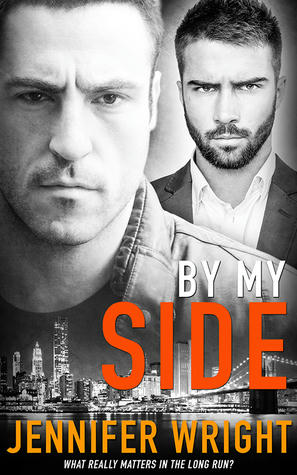 Title: By My Side
Author: Jennifer Wright
Genre: Contemporary
Length: 55 Pages (short story)
Publisher: Pride Publishing (12 January 2016)
Heat Level: Low
Heart Rating: ♥♥♥♥ 3.5 Hearts
Blurb: Noah has suppressed his urges for other men for years, but when a sexy bartender comes crashing into his life, all bets are off.
Due to his career as a lawyer and his father's strict ways, Noah has always ignored the side of him that craves the touch of another man, not wanting to upset the calm waters of his life. But when he's out one night celebrating his friend's first win in a courtroom, Noah is taken aback by the raw lust that consumes him when he meets Shea. He wants to ignore what he feels for the man, but when Shea introduces a tantalizing side of sex that Noah has been dreaming of, he finds it impossible to keep Shea out of his life.
Shea's been heartbroken before by a man who wouldn't come out of the closet for him, and he doesn't think he can go through that again. Can Noah let go of his fears of coming out to the world? Will the pleasures Shea gives him in the bedroom have Noah seeing what really matters in the long run?
ISBN: 9781784309428
Product Link: https://www.pride-publishing.com/book/by-my-side
Reviewer: Veronica
Review: The author did a good job on this story, and I like it, but was somewhat puzzled, at the way the part of the BDSM section was just injected into the storyline, without it even being talked among them as it being a part of their sexual preference. Noah is attracted to men, and have been for years, but he doesn't want anyone to know, so he hides behind the women that he hook up with, so his secret won't be revealed. He was in a relationship with a guy in college, and when his dad found out about it, he was read the riot act, that with his family name and prestige, he shouldn't be carrying on like that to sully the family's name.
Noah and his best friend are out one night at a bar celebrating his friend' first courtroom case, he's at the bar waiting to order his drinks, when he sees the bartender, and has an instant attraction for the guy, but he tries to shrug it off. It doesn't happen, as he secretly spies on him all during the night that he's at the bar. Shea is an out and gay man, and he refuses to go back into the closet for anyone. He was in love with a guy years ago, and was hurt badly, when the guy denied they relationship.
Days go by, and Noah is still thinking about Shea, debating with himself, if he should go ahead and approach Shea, and what would happen when his family and best friend find out. Noah and Shea finally hook up, and the sex is steamy hot, and everything that Noah has been missing in his life. Will his feelings for Shea finally convince him to live his life without worrying about others opinions, or will he forever continue to live the rest of his life hiding who he is.
I would recommend this short story for anyone looking for a quick read with a little BDSM.