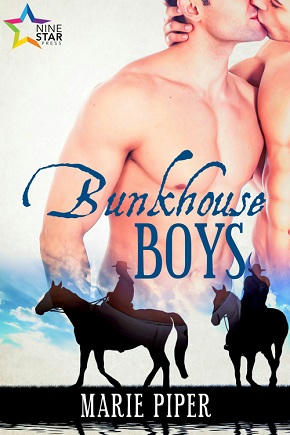 Title: Bunkhouse Boys
Author: Marie Piper
Genre: Historical
Length: 18 Pages (short story)
Publisher: NineStar Press (4th April 2016)
Heat Level: Low
Heart Ratings: ♥♥♥ 3 Hearts
Blurb: Kenny and Blue, two hands at the Tate Ranch, find distraction in each other from sleepless nights and days filled with hard work. Keeping their relationship a secret might be essential, but with their growing need for each other, it sure won't be easy.
ISBN: 9781911153412
Product Link: https://ninestarpress.com/product/bunkhouse-boys/
Reviewer: Veronica
Review: The author did a good job on this story. There's not much too this story as I read it in thirty minutes. Kenny and Blue are ranch hands sharing close sleeping quarters in a bunkhouse on the ranch where they live. Kenny has always been a terrible sleeper, you can even say that he's an insomniac. On this particular night, he's thinking about the guy that sleeps in the bunk beside him, Blue, when he walks in, returning from the saloon that he was at in town.
Blue gets comfortable in his bed, and starts to indulge in a bit of 'self love' while Kenny watches.  Blue isn't a shy guy and doesn't care who watches him. One thing leads to another and they both end up outside behind the Bunkhouse having sex. After, they both agree to keep it between them. However, as the days and nights go by, Kenny can't forget the night that he and Blue were together, and wants a repeat performance.
He watches Blue during the day when he's working and is feeling jealous when he sees him interacting with the other guys on the ranch. When working in an isolated area on the ranch, Kenny is cornered by Blue and he gets exactly what he's been thinking of from Blue.
I'm sorry that that this story wasn't a bit longer, but it is a good read. Anyone looking for a quick short cowboy story, I would surely recommend this one.