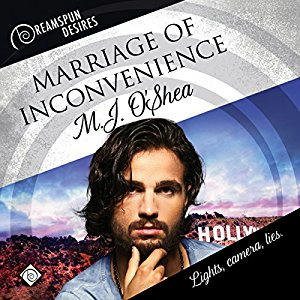 Title: Marriage of Inconvenience
Series:  Dreamspun Desires 16
Author: MJ O'Shea
Narrator: John Solo
Genre: Contemporary
Length: 5 hrs, 35 mins
Publisher: Dreamspinner Press LLC (16th September 2016)
Heat Level: Moderate
Heart Rating: ♥♥♥♥ 3.5 Hearts
Blurb: Lights, camera, lies.
Kerry Pickering has a problem. As a publicist for Hollywood bad boy Jericho Knox, it's Kerry's job to keep Jericho in the news. So far, Jericho's partying and public escapades have made it easy. But Jericho has a secret, and when that secret is revealed in the most spectacularly disastrous way, it's up to Kerry to spin it.
The team decides the best course of action is to make the public fall in love – with Jericho's secret committed relationship. The one that doesn't exist. Yet.
The team wants someone they can trust. Someone in the inner circle. That someone is Kerry. But what will happen when Kerry realizes that for him, the romance is no longer pretend? Can Jericho love him back, or is he just playing a role?
Product Link: Audible US | Audible UK
Reviewer: Prime
Review: Let me start off by saying that while I was not wowed by this book, I did enjoy listening to it and was quite happy to suspend my disbelief as we entered the world of Hollywood with all its not so glamorous business. Part of me had higher expectations – mostly because I enjoy many stories by MJ O'Shea, in addition to the narration by John Solo, who is by far one of my favorite narrators. He has a definite way with words and being able to convey the perfect emotions with his tone.
The story follows publicist to the stars, Kerry Pickering. Kerry is the consummate professional and has been career driven for a long time. He has learnt a lot in his time in Hollywood and despite the fact that he can only dream of the luxury his clients live in, he is happy in his job and his rundown apartment that he shares with his younger brother. Seriously, Kerry is the kind of guy everyone would love.
But then we meet one particular pain the ass client, Jericho. He's up himself and for the most part not very likeable – and that is definitely what took away from my enjoyment of the book. He's not just brash and snobbish; it's hard to really see what is in his heart. I spent most of the story annoyed with the guy. The saving grace to this though is that Kerry isn't about to bow down to Jericho's overbearing and generally horrible attitude and for that, I love him. Jericho also manages to redeem himself as well, which is always a bonus.